At BaseOutdoor, we know the allure of a serene outdoor meal. But have you ever wondered whether your dinnerware was toxic, or whether it was proudly made in the USA. Let's face it, in our fast-paced lives, who has the time to sift through countless options?
We've all been there: planning a perfect outdoor gathering and realizing we need reliable dinnerware, but the clock is ticking. That's where we step in. We understand that not everyone can afford to spend days, or even hours, researching the best products. And rushing? That often leads to regrettable choices.
That's why we've done the legwork for you. Our team has meticulously tested and reviewed numerous sets, and we're excited to present you with the top 5 non-toxic dinnerware sets made in the USA. Dive into our concise list, and in less than 10 minutes, you'll be well-informed and ready to make a choice that complements those memorable outdoor moments.
You will also get a user-friendly buying guide that you can use to identify the best non-toxic dinnerware whenever you need to in record time! Work smarter, not harder, and let's start right away!
1. Corelle Dinnerware – Triple Layer Glass
Check on Walmart
Having had the opportunity to use the Corelle Dinnerware, I must say it's a blend of both style and functionality. Made with triple-layer strong glass, it promises durability that's hard to match. The patterns are not just painted on; they're part of the dinnerware, ensuring they won't scratch, wear, or fade.
This makes them perfect for everyday use or special occasions. The stackability is a bonus, saving valuable kitchen space. However, while they're lightweight, one might feel they lack the heft of traditional ceramic cookware. Also, the design, though elegant, might not cater to everyone's taste.
Key Features:
Triple-layer strong glass construction.
Patterns won't scratch, wear, or fade.
Lightweight and thin design.
Stackable for space-saving.
Resistant to breaks and chips.
Pros
Highly durable and strong.
Elegant and timeless design.
Space-saving stackability.
Patterns remain vibrant.
Suitable for microwave and oven.
Cons
Feels lighter than ceramic.
Design might not suit all.
2. Gibson Home Dinnerware – Microwave Safe Porcelain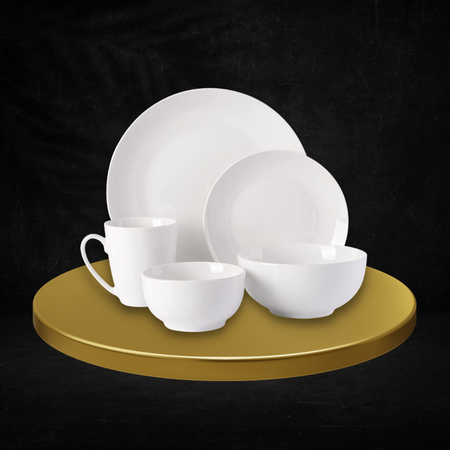 Upon unboxing the Gibson Home Zen Buffet Porcelain Dinnerware Set, the first thing that strikes you is its timeless charm. The classic white coupe shape is the epitome of everyday elegance. The set is comprehensive, providing service for 6, which includes dinner plates, dessert plates, bowls, salad bowls, and mugs. Made from AB-grade porcelain, it's evident that the material is both robust and lightweight, crafted from 100% natural minerals.
This ensures the set is BPA-free and heat-resistant, making it perfect for daily use. Originating from Los Angeles, Gibson Overseas, Inc. has a legacy of over 40 years in tabletop and housewares production. The Zen Buffet collection embodies pure simplicity, suitable for any occasion. Moreover, the convenience of this set being microwave and dishwasher-safe cannot be overstated.
Key Features:
Classic white coupe shape design.
Comprehensive set serving 6 people.
Crafted from AB-grade porcelain.
BPA-free and heat-resistant.
Microwave and dishwasher-safe.
Pros
Timeless and elegant design.
Suitable for daily use.
Heat-resistant and BPA-free.
Easy cleaning and maintenance.
Versatile for any occasion.
Cons
Only available in white.
Might be too plain for some.
3. US Acrylic Dinnerware – Ultra-Durable Plastic
Check on USAcrylic
Having had the chance to use the Everest Ultra-Durable Plastic Dinnerware, I can confidently share my thoughts on this product. The first thing that caught my attention was the vibrant gradient design, which added a touch of elegance to my dining table. Made in the USA, the quality of this dinnerware is evident, and it's reassuring to know that it's non-toxic.
The 10-inch size is perfect for serving main courses, and the material feels sturdy in hand. While it's ultra-durable, I did notice that it can be prone to minor scratches if not handled with care. However, this is a minor drawback considering the overall quality and aesthetics of the product.
Key Features:
Vibrant gradient design.
Made in the USA.
Non-toxic material.
10-inch size suitable for main courses.
Ultra-durable plastic construction.
Pros
Elegant gradient design.
Sturdy and durable.
Perfect size for main dishes.
Cons
Can be prone to scratches.
Requires careful handling.
4. Amazon Basics Dinnerware – Dishwasher safe
Having had the opportunity to use the Amazon Basics 18-Piece Dinnerware Set, I can confidently share my thoughts on it. This set, designed for a service of six, is both elegant and durable. The AB-grade porcelain material used ensures a lightweight feel while maintaining a robust structure. It's microwave, freezer, and dishwasher safe, which adds to its convenience. The set includes six each of dinner plates, dessert plates, and bowls.
The white color gives it a classic look, suitable for both daily use and special occasions. However, while the design is minimalist and versatile, some might find it too plain for their taste. Additionally, the plates and bowls, though sturdy, might not withstand very rough handling.
Key Features:
18-piece dinnerware set for six.
Made of AB-grade porcelain.
Microwave, freezer, and dishwasher safe.
Classic white color.
Includes dinner plates, dessert plates, and bowls.
Pros
Durable and lightweight.
Versatile design.
Safe for microwave and freezer.
Easy to clean (dishwasher safe).
Suitable for daily use.
Cons
Design might be too plain for some.
Requires careful handling.
5. Stone Lain Dinnerware – Highly Durable Stoneware
Check on Walmart
Having had the opportunity to use the Stone Lain Stoneware Dinnerware Set, I must say it's a delightful addition to any dining table. The matte black finish gives it a contemporary look, while the stoneware construction ensures durability. Each piece feels substantial in hand, exuding quality.
The 16-piece set is comprehensive, catering to most dining needs. However, while the design is undoubtedly stylish, it might not be everyone's cup of tea. Additionally, the bowls could be a tad deeper for those who prefer generous servings. All in all, it's a set that combines aesthetics with functionality.
Key Features:
Stoneware Material made durable and long-lasting.
16-Piece Set includes dinner plates, salad plates, bowls, and mugs.
Matte Black Finish offers a modern and sleek look.
Dishwasher and Microwave Safe for easy cleaning and reheating.
Round Design: Classic and versatile for various dining settings.
Pros
Durable stoneware construction.
Modern matte black design.
Comprehensive 16-piece set.
Dishwasher and microwave safe.
Suitable for everyday use.
Cons
Design might not suit all tastes.
Bowls could be deeper.
Buying Guide
Not everyone knows what to look for when choosing the best non-toxic dinnerware. It's not a task that everyone completes regularly, so it is no wonder that some people won't be certain what differentiates good products from bad.
If you aren't sure what to look for when purchasing a non-toxic dinnerware set made in the USA but don't want to risk getting the wrong product, we got you!
To save you from going through the hassle of purchasing a poorly made dinnerware set, we provide you with a list of the most important factors you should consider when choosing your product. Take a look below to find what factors you need to pay attention to:
Materials
One of the most important factors to consider is the material used to make the dinnerware you're interested in purchasing. If the materials of the product you're buying aren't good and high in quality, the product won't be either. This can result in issues such as a poorly made product that easily breaks, but that is not all.
If you're on the search for non-toxic products, you need to double-check to make sure that your product is made with non-toxic materials specifically. You can find this info by checking product descriptions of the products you're interested in getting, so make sure you do that.
Quality
The next thing to factor in is the quality of the product you want to get. It's commonly known that the higher the quality of the product is, the better the product will be. It will probably last longer as well, so checking to see whether the quality of the dinnerware you're interested in getting is high should be taken seriously.
Luckily, you can find this info by checking the product descriptions as well, and you won't have to spend an eternity searching elsewhere. Also, if you want to go a step further, you can check out a few customer reviews as well.
Some people who buy products regularly tend to leave comments about certain items and inform other people how satisfied they are with the quality, so it can't hurt to check this out as well.
Durability
The last factor you should pay attention to is the durability of the dinnerware set that interests you. If you managed to find a product that seems to fit your needs perfectly and is aesthetically pleasing, you need to see how durable it is.
This type of info will tell you whether the product will be able to last for a long time and withstand different conditions. You can look through product descriptions and customer reviews to find info regarding the product's durability with ease.
FAQ
What Should My Non-Toxic Dinnerware Set Include?
The answer is dinner plates, salad or dessert plates, soup bowls, and mugs. Note that this can vary based on the brand and your personal preferences, so make sure that the set you want to purchase includes exactly what you had in mind.
How Many Dinnerware Sets Should I Possess?
You should have 8 to 12 five-piece plate settings, to ensure both you and your guests are all set. It also helps to have more sets in case you have to put something away or in your dishwasher. You'll always have a spare set to use.
What Is the Healthiest and Safest Dinnerware Material?
If you're uncertain about what dinnerware material would suit your needs best and be the safest, we're here to help. The truth is there is more than one safe and healthy dinnerware material out there.
However, food-grade stainless steel is generally considered the safest and healthiest. If you don't want to experiment and don't have time to look further, choosing stainless steel is a great and safe option.
Conclusion
At BaseOutdoor, we recognized the challenge of pinpointing not only an ideal non-toxic dinnerware but one made in the USA. It's akin to finding that perfect camping spot you once stumbled upon – rewarding but not always straightforward.
But here's the good news: you don't have to embark on this journey alone. Armed with our curated list and comprehensive buying guide, you're just moments away from securing the perfect dinnerware for those cherished outdoor feasts.
Make your selection confidently, anytime, anywhere.