There's nothing quite like the thrill of the hunt, especially when the cold weather sets in. But let's be honest, frosty fingers can really put a damper on your hunting game.
So read on if you are on the lookout for the perfect pair of gloves to keep our hands warm and nimble. After all, you wouldn't want to miss that perfect shot because your fingers were too cold to pull the trigger, right?
So, let's get our hands into the world of the best cold weather hunting gloves, without getting too touchy-feely about it. Stay tuned, and let's keep those digits toasty!
1. UA Scent Control Insulator 2.0 GORE-TEX®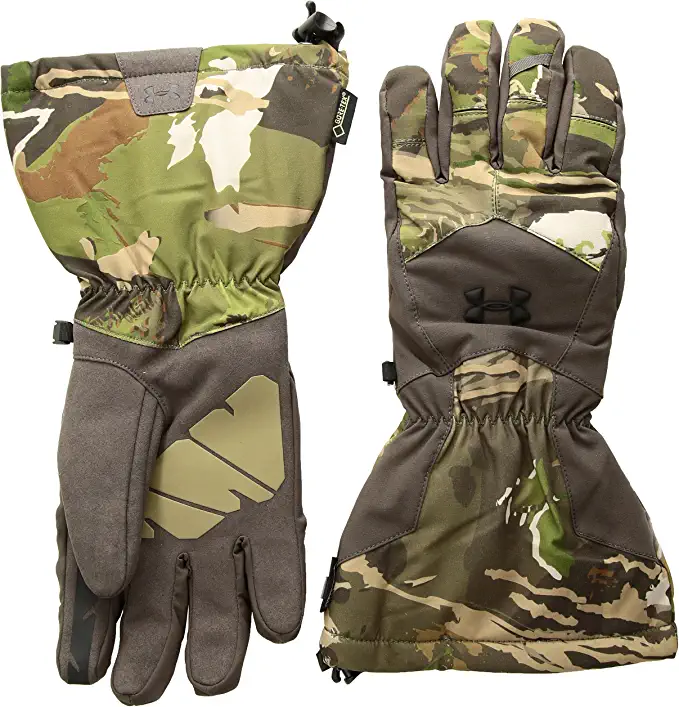 Check on Amazon
When it comes to braving the cold during hunting sessions, the UA Scent Control Insulator 2.0 GORE-TEX Gloves have been a game-changer for many. Crafted with a blend of 72% Polyester, 25% Leather, and 3% Silicon, these gloves are designed to offer the best of both worlds: protection and functionality.
The GORE-TEX construction ensures that the gloves are 100% waterproof, yet they remain incredibly breathable. Plus, the Under Armour Scent Control technology is a boon for hunters, trapping and suppressing odors to make you less detectable. The added insulation is lightweight and breathable, ensuring your hands stay warm without feeling suffocated. The gloves also come with a durable leather palm with a silicone print for that extra grip, crucial during those intense hunting moments.
However, while they're packed with features, some users have mentioned they might not be the warmest option for extremely cold conditions.
| Feature | Specification |
| --- | --- |
| Material Composition | 72% Polyester/25% Leather/3% Silicon |
| Waterproofing | GORE-TEX construction (100% waterproof) |
| Odor Control | Under Armour Scent Control technology |
| Insulation | Lightweight, water-resistant, breathable & ultra-warm |
| Additional Features | Durable leather palm with silicone print for extra grip |
| Closure | Bungee closure for adjustable fit |
| Care Instructions | Machine Wash |
Pros
Effective odor control.
Durable with good grip.
Adjustable bungee closure.
Cons
Might not be warmest for extreme cold.
Fit may be tight for some.
2. Sitka Gloves Delta Deek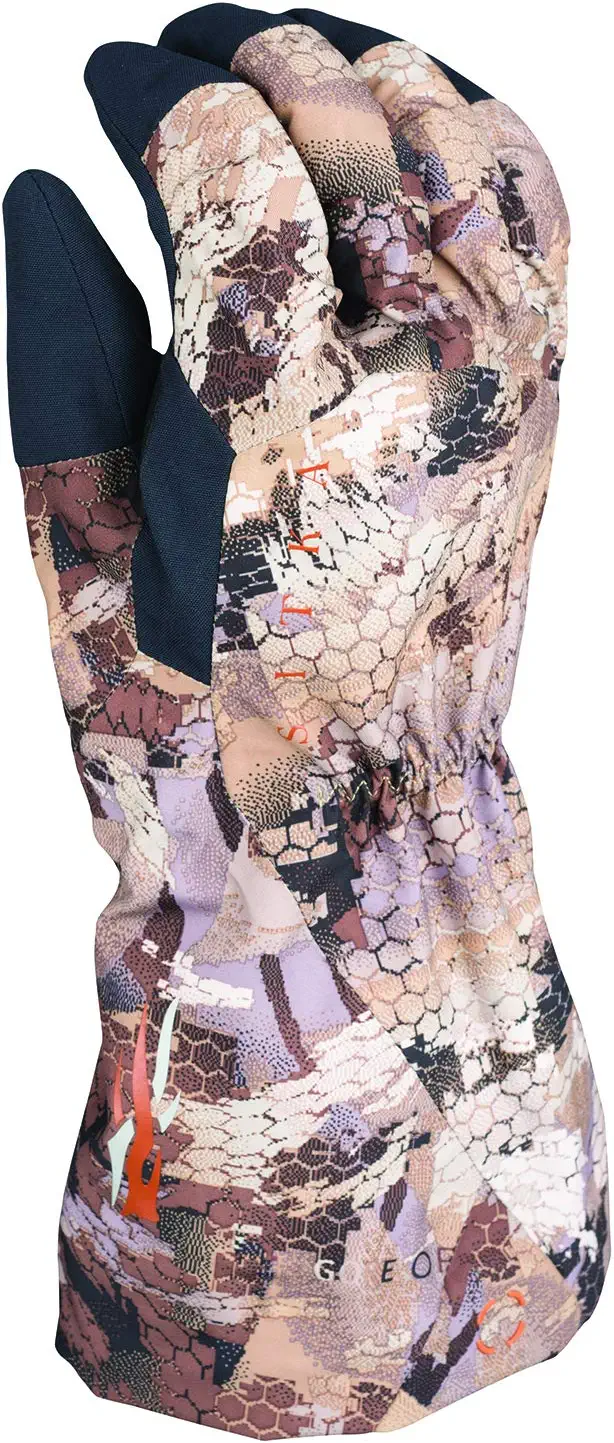 Check on Amazon
Check on Sitka
Designed with the late-season hunter in mind, these gloves offer full protection, especially during those ice-breaking decoy placements. The 100% waterproof GORE-TEX outer shell ensures your hands stay dry, while the removable compression-resistant fleece liner provides added warmth.
What's more, the gloves are designed for engagement distances of 10 to 40 yards, making them ideal for various hunting environments, from flooded timber to marshes and fields. The GORE-TEX technology ensures the gloves are not only waterproof but also lightweight and breathable.
For those lighter duty blind sits, you can easily remove the liner, ensuring your hands stay warm with an enhanced grip. In short, these gloves are a must-have for any serious waterfowl hunter.
| Feature | Specification |
| --- | --- |
| Material | GORE-TEX, Polyester, Nylon |
| Special Feature | Lightweight |
| Hand Orientation | Ambidextrous |
| Waterproof | 100% with GORE-TEX taped outer shell |
| Liner | Removable compression-resistant fleece |
| Design Purpose | Engagement distances of 10 to 40 yards |
| Care Instructions | Hand Wash |
Pros
Absolutely waterproof
Highly functional design
Suitable for various environments
Lightweight and breathable
Removable liner for versatility
Cons
Outer shell may pinch during reloading
Fingertips can get cold in prolonged rain
3. Scentlok Savanna Lightweight Shooter Gloves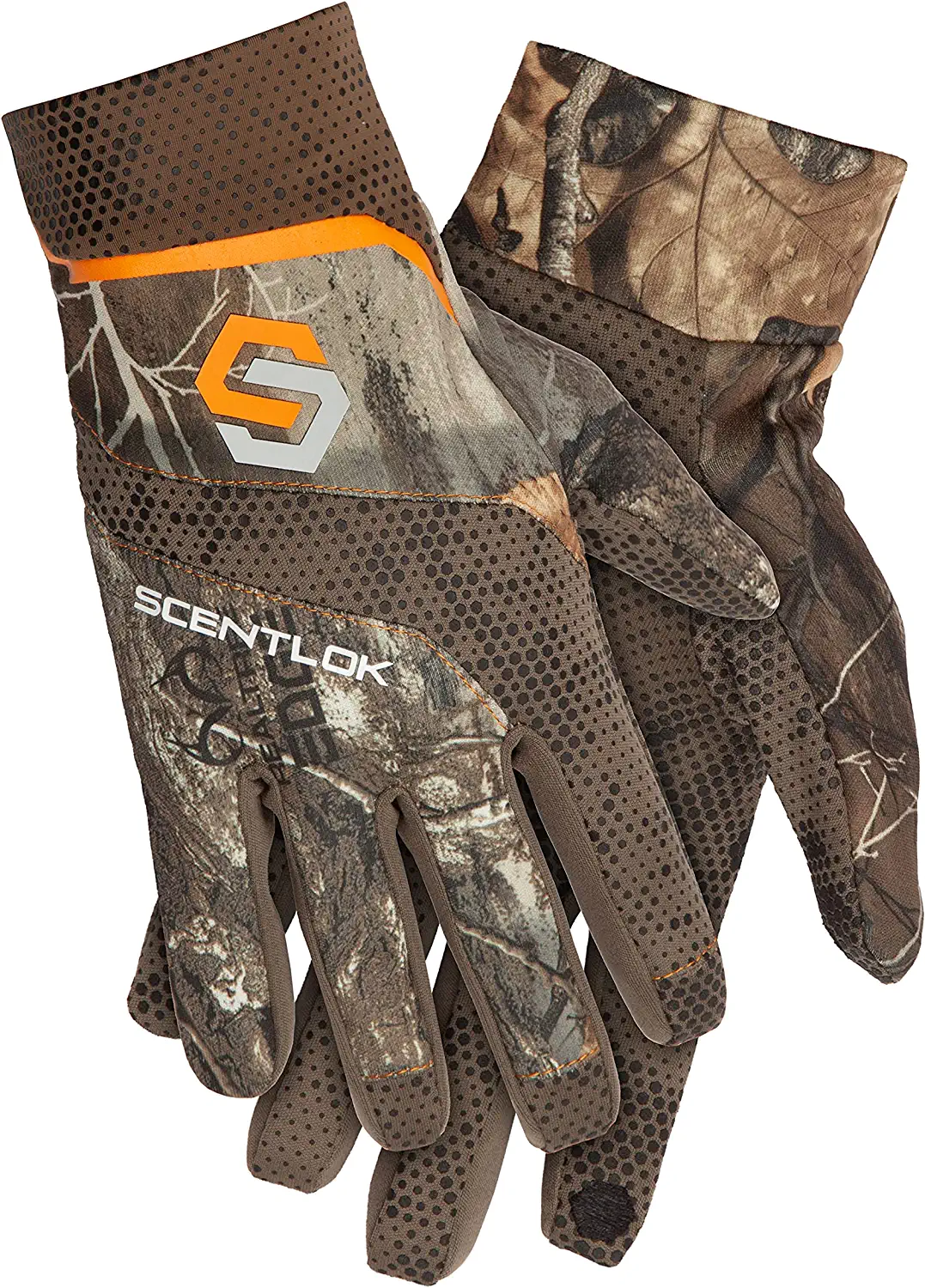 Check on Amazon
Designed with the modern hunter in mind, these gloves are not only lightweight but also incorporate ScentLok's proprietary Carbon Alloy® technology. This ensures that odors are effectively trapped, giving you an edge in the field. The gloves also boast a snug fit, ensuring dexterity and precision during those crucial moments. Howeversome users might find the fit a bit too snug, especially if they have larger hands, and the absence of touchscreen compatibility can be a slight inconvenience in today's digital age.
| Feature | Specification |
| --- | --- |
| Material | Lightweight fabric |
| Odor Control Technology | Carbon Alloy® |
| Design | Snug fit for enhanced dexterity |
| Additional Features | Grip-enhancing palm design |
| Touchscreen Compatibility | Not available |
Pros
Effective odor control
Lightweight and breathable
Enhanced grip design
Snug fit ensures dexterity
Cons
Might be tight for larger hands
No touchscreen compatibility
4. Badlands Men's Convection Gloves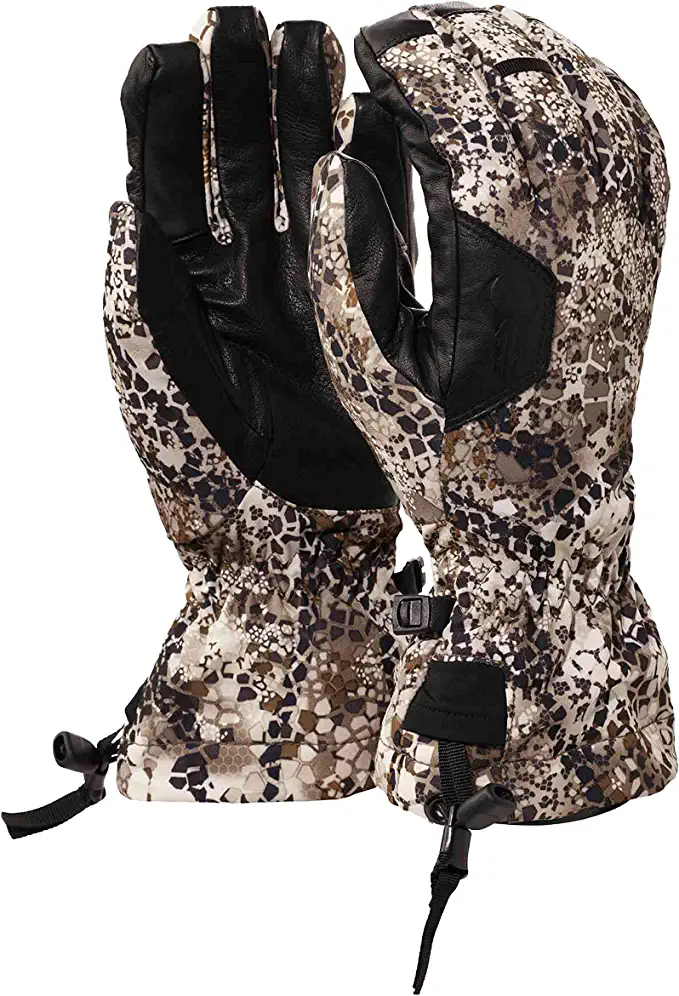 Designed for those who brave the harshest weather, these gloves offer a blend of warmth, protection, and dexterity. The Ax Suede palm ensures a firm grip, which is essential when handling gear in cold environments. The gloves are insulated, waterproof, and windproof, ensuring your hands remain warm and dry. The Approach camo pattern is versatile and adapts to various surroundings, ensuring you remain concealed.
| Feature | Specification |
| --- | --- |
| Material | Ax Suede palm |
| Weather Protection | Waterproof, Windproof |
| Temperature Range | 0 to 50 degrees |
| Camo Pattern | Approach |
| Special Features | Insulated, Long cuff |
| Product Care | Machine Wash |
| Weight | 113 Grams |
Pros
Excellent grip with Ax Suede
Waterproof and windproof
Versatile Approach camo pattern
Insulated for added warmth
Cons
Not ideal for extreme cold
Index finger durability concerns
5. Glacier Glove Alaska Pro™ Waterproof Insulatedf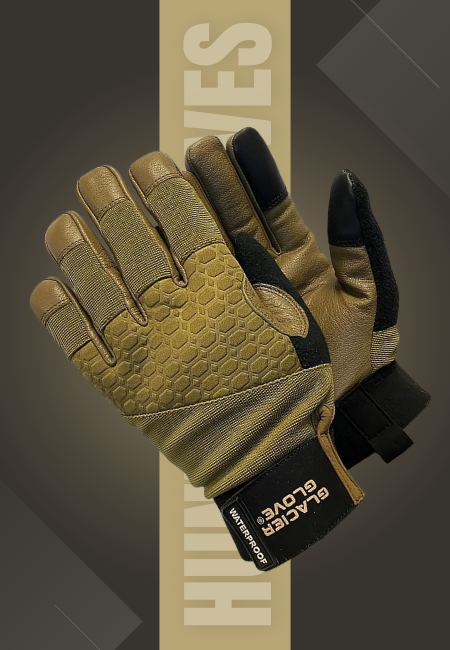 Check on Amazon
The glove is designed with a unique blend of materials that ensures both warmth and dexterity. The feel is reminiscent of a shooting glove, yet it offers the warmth of a winter glove.
The Merino wool lining is a pleasant touch, ensuring that your hands remain cozy even in the coldest conditions. The waterproof and breathable membrane is effective, keeping my hands dry even during heavy rain.
The touchscreen compatibility is a bonus, allowing me to use my electronic devices without removing the gloves. However, I did find that the glove might be a bit bulky for some tasks.
Key Features Table:
| Feature | Specification |
| --- | --- |
| Material | Merino wool lining, waterproof breathable membrane |
| Design | Blends shooting glove feel with winter glove warmth |
| Palm | Goat Skin Leather |
| Touchscreen Compatibility | Yes, compatible with iPhones, Androids, iPads, etc. |
| Usage | Duck hunting, goose hunting, fishing, and other outdoor activities |
Pros
Touchscreen friendly design.
Suitable for various outdoor activities.
Waterproof and breathable.
Cons
Slightly bulky for some tasks.
Long-term durability not verified.
6. Sitka Downpour GTX Glove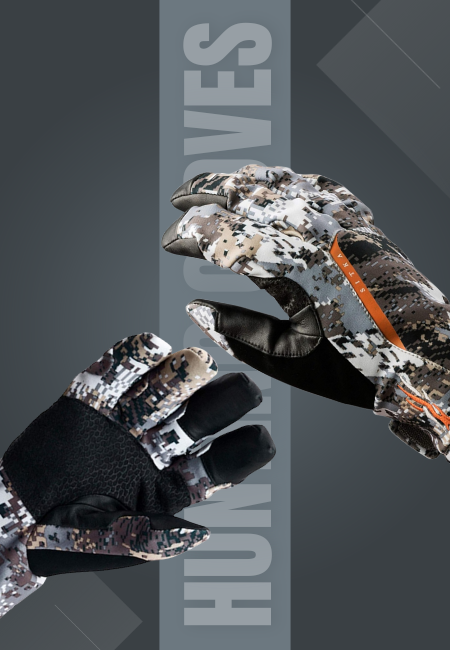 Check on Amazon
The Sitka Downpour GTX Glove boasts a waterproof Gore-Tex laminate that ensures your hands remain dry, regardless of the weather. The innovative 3-layer laminate paired with a durable water repellent finish is impressive. The glove is not just about protection; it's also about comfort.
The articulated patterning ensures that you're comfortable even when seated, and the extra length in the seat ensures water is shed off your back. Sitka Gear has always been known for its high-quality apparel, and this glove is no exception.
| Feature | Specification |
| --- | --- |
| Brand | SITKA Gear |
| Material | Polyester |
| Special Features | Waterproof, Thermal, Breathable |
| Hand Orientation | Ambidextrous |
| Product Care Instructions | Hand Wash |
| Age Range | Adult |
| Sport | Hunting |
Pros
Keeps hands warm in cold
Truly waterproof
Silent fabric material
Comfortable fit
Cons
Leatherish parts can be loud
Not as warm as expected
Buying Guide
When it comes to hunting in cold weather, having the right gloves can make a significant difference. Not only do they keep your hands warm, but they also ensure you have the dexterity needed to handle your equipment effectively.
Insulation: Look for gloves with insulation materials like Thinsulate, PrimaLoft, or down. These materials trap heat effectively without adding bulk.
Outer Layer: The outer layer should be durable and resistant to wear and tear. Materials like leather or synthetic fabrics are commonly used.
Inner Lining: A soft inner lining, often made of fleece or wool, adds comfort and additional warmth.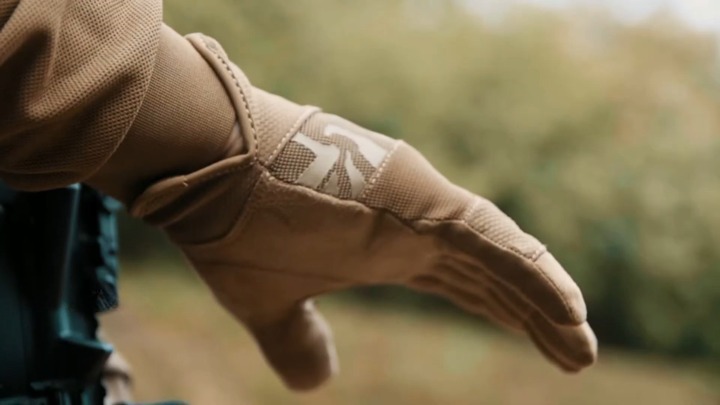 Waterproofing
Ensure they have a waterproof membrane like Gore-Tex. This will keep your hands dry in wet conditions, which is crucial for maintaining warmth.
Breathability
While waterproofing is essential, breathability is equally crucial. A breathable glove ensures that sweat and moisture are wicked away, keeping your hands dry and warm.
Fit and Dexterity
They should fit snugly without being too tight. They should also allow for full finger movement, ensuring you can handle your equipment without hindrance.
Pre-curved fingers or articulated designs can enhance dexterity.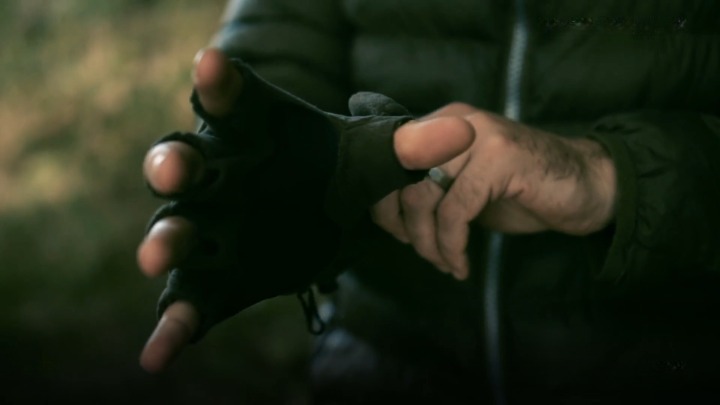 Touchscreen Compatibility
Many modern hunting devices are touchscreen. Having gloves that are touchscreen compatible can be a significant advantage, allowing you to use devices without removing your gloves.
Camo Patterns
Depending on your hunting environment, consider gloves with camouflage patterns that match your surroundings.
Cuff Design
A longer cuff can prevent cold air and snow from entering the glove. Some also come with adjustable straps for a secure fit.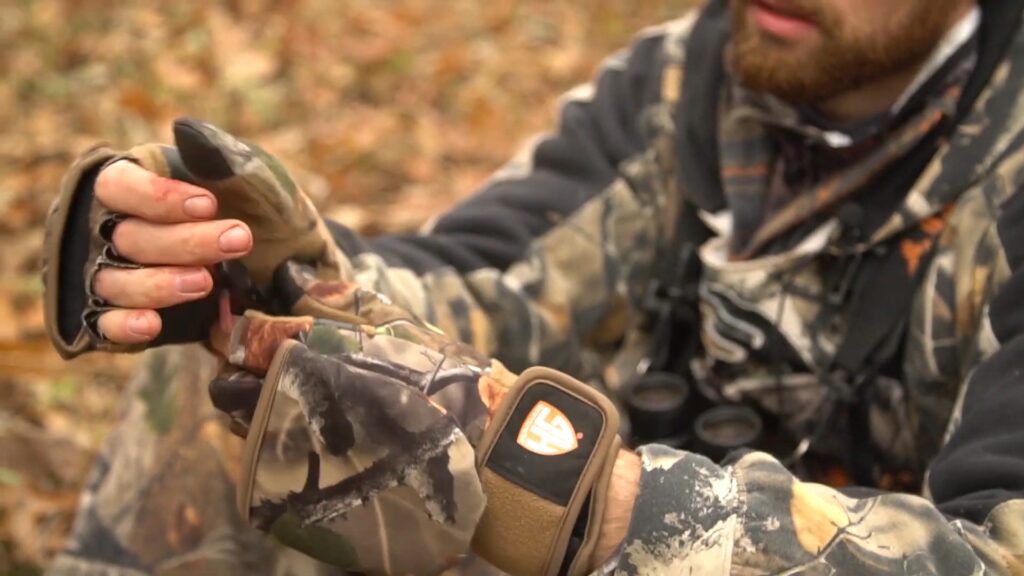 Grip
Look for gloves with reinforced palms or grip-enhancing materials. This ensures you have a firm hold on your weapon or equipment, especially in wet conditions.
Additional Features
Some come with features like scent control, which can be beneficial for hunting.
Consider gloves with removable liners. This allows you to adjust the insulation level based on the weather.
Price and Brand
While price is a consideration, it shouldn't be the only factor. Sometimes, paying a bit more for a reputable brand ensures quality and durability.
Read reviews and do your research to find gloves that offer the best value for money.
FAQ
What materials are commonly used in cold-weather hunting gloves?
The most common materials used include leather, neoprene, fleece, and synthetic insulations like Thinsulate. These materials are chosen for their insulating properties, water resistance, and durability.
How do I choose the right size for my hunting gloves?
To choose the right size, measure the circumference of your hand at its widest point, excluding the thumb. Most manufacturers provide a sizing chart that correlates hand measurements to glove sizes. It's essential to ensure a snug fit without being too tight, as this can restrict blood flow.
Are all cold-weather hunting gloves waterproof?
No. However, many are designed with water-resistant or waterproof materials to protect against damp conditions. It's crucial to check the product specifications or labels to determine if a particular pair is waterproof.
How do I clean and maintain my hunting gloves?
Most of them can be cleaned with mild soap and water. After washing, it's essential to let them air dry. Avoid exposing them to direct heat sources like heaters or open flames. Regularly maintaining your gloves and checking for wear and tear and addressing any issues promptly will extend the life of your gloves.
How thick should my hunting gloves be?
The thickness should depend on the temperatures you expect to encounter. For extremely cold conditions, thicker ones with more insulation are recommended. However, for milder cold weather, a thinner glove might offer better dexterity.
Summary
Choosing the right cold-weather hunting gloves is crucial for a successful and comfortable hunting experience. The best will offer a balance of warmth, dexterity, and durability.
By considering the factors mentioned in this guide, you can find gloves that not only meet your needs but also enhance your hunting experience. Remember, in extreme conditions, the right pair of gloves can make the difference between an enjoyable hunt and a miserable one. Invest wisely!