The art of metal searching takes many forms, and one of the most popular is the search for coins. Choosing the best equipment for coin-specific searches can be daunting in the larger metal detector market.
Best Choice
Second Best
Also Consider
Garrett 1140460 at Pro (Waterproof to 10 feet)
Fisher F75 Multi-Purpose Metal Detector
OMMO Metal Detector, Adjustable 27.5"-37.8" Metal Detector for Kids with Intuitive LCD Display, Lightweight Kids Metal Detectors with 6" Search Coil for Exploration Hiking
Best Choice
Garrett 1140460 at Pro (Waterproof to 10 feet)
Also Consider
OMMO Metal Detector, Adjustable 27.5"-37.8" Metal Detector for Kids with Intuitive LCD Display, Lightweight Kids Metal Detectors with 6" Search Coil for Exploration Hiking
Retailers feature dozens of devices from various companies including Minelab, Garrett, White's, AKA, and others. Let us help you navigate the world of metal detectors and search equipment as you search for the perfect choice.
But, which is best to buy for your coin search aspirations?
Top Best Metal Detector for Coins
1. White's Spectra V3i HP Metal Detector
Initially, the manufacturer called this series Whites Vision, but when it went on sale, it was changed to Whites Spectra, a line to which the V3i metal detector belongs.
The Whites Spectra V3i steel metal detectors were Whites answer to the DFX. It has a similar menu structure management and search program. The newest model included several frequencies (2.5 kHz, 7.5 kHz, 22.5 kHz), Hi-Tech, and TX Boost functions.
The changes affected discrimination and pinpoint mode.
Features:
Mixed stereo mode (all metals in one channel, discrimination in the other)
Multi-language interface
New target identification system – a vector screen in polar coordinates (graph is plotted for each frequency)
Coil menu specifications improve the accuracy of measuring the depth of the object
An intelligence scan with a scrolling graph shows the change in soil mineralization
The context help system gives a hint on the functions of the device
Soil selection (normal, salty)
Displays current mode icon – Search, Analysis, or Targeting
Embody the latest advances in treasure hunting:
3-frequency technology with simultaneous display of data for each frequency – a graphical analyzer, SpectraGraph functions, as well as during target designation
Color display with the ability to customize the color palette and high contrast when working on the beach
SpectraSound wireless headphones, designed specifically for the Spectra V3, provide an unprecedented user experience. The sound can come to one or more headphones. It is possible to change the channel to protect against interference
10 search programs created by White's experts: Coins, Coins and Jewelry, Salty Beach, Relics, Geological Exploration, Deep Silver, High Debris, Professional (Hi-Pro), Mixed Pro Mode, Meteorites
Maximum performance and accuracy of target determination are achieved using 3 frequencies: 22.5 kHz for gold, 2.5 kHz for silver, and 7.5 kHz for common tasks. Choose to work with one frequency or three at a time.
Ability to quickly change the detector settings during the search without entering the menu. A set of parameters relevant to the current program is displayed at the bottom of the display.
Easy intuitive menu of the metal detector, divided into 6 groups
Wireless exchange programs between multiple metal detectors
Coil 10 "DD provides good working width and resistance to mineralization
20 levels of metal detector display backlighting
Ability to enter the name of the owner and contact information with password protection
Ability to manually select the level of filtering from 8 values ​​from 5 to 12.5 Hz
200 signal processing speeds
Convenient switching between different options for displaying information about the object using the trigger switch: SpectraGraph – Targeting – Analysis
Convenient display of accepted and rejected targets in green and red
Powered by rechargeable NiMh battery
2. Garrett AT PRO Metal Detector
Among the metal detectors produced by Garrett Electronics, it is impossible not to single out the Garrett AT Pro as the best metal detector for coins and jewelry. No self-respecting search professional should do without it.
Model AT Pro is a professional coin detector, one glance at which it is impossible to doubt its performance. The strict laconic design conveys the whole essence of Garrett AT Pro, but the most important thing is its functions.
Among the surprising innovations is the water resistance of this model, which allows you to work with AT Pro also underwater, at a depth of 3 meters, making it a real amphibian in the world of metal detectors.
This device is reliably protected from dust and dirt penetration, which makes it practically invulnerable in any adverse weather conditions and significantly expands the search capabilities of the treasure hunter.
The Garrett AT Pro is equipped with two soil adjustment modes—manual and automatic. Sound effects work in several modes including standard and professional Pro-Audio. Unlike the standard sound notification in most metal detectors, Pro-Audio notifies the searcher about the depth.
The Garrett AT Pro is a breakthrough in the metal detector industry.
Features:
Additional professional sound modes that allow you to estimate the distance to the object, the depth and "see" nearby objectives ("Proportional Sound" and "Rocking Tone" modes)
Fast reaction rate allows you to successfully highlight useful color targets against the background of high littering
Iron Audio mode allows you to hear the iron targets and accurately build on them.
High accuracy of iron detuning (40 levels)
Suitable in any condition including dusty, dirty, and humid environments as well as underwater for 3 meters
Digital target ID (0 … 99)
Manual soil balancing option allows you to set up the detector to the ground with the highest quality
FastTrack allows you to balance in semi-automatic mode quickly
Working frequency of 15 kHz increases the sensitivity to small objects like coins and jewelry
Exclusive 8.5 × 11″ type DD coil filters the mineralization of the soil and well shares the nearby targets.
Targeting mode provides accurate localization of the object before digging.
3. Fisher F75 Metal Detector
One of the best coin metal detector in the history of metal detectors, the Fisher F75 incorporates all modern Fisher technical solutions including a double filtering discriminator for searching in littered soil, automatic FASTGRAB soil balancing, 3 search modes (discrimination, dynamic All Metal and static All Metal) and the ability to select the optimal search style (standard, jewelry, filtering litter, plowed field).
This metal detector is distinguished by its high reaction rate to detected objects which supports a phenomenal separating ability.
Thanks to the battery compartment located under the armrest, it has good ergonomics, which makes the F75 an indispensable professional tool.
Features:
Double filter discriminator to search in littered soil
2-digit target type identifier: the display shows the VDI number of the object from 0 to 99. Additionally, a measurement confidence indicator is displayed
8 discrimination groups 0–99 to exclude unwanted objects from the search such as ferrous metals
3 search modes – discrimination, dynamic All Metal and static All Metal (search at maximum depth without discrimination)
Optimal search style selection (standard, jewelry, filtering litter, plowed field)
Numbered tones – 1 to 4 or incremental
Soil balancing – automatic FASTGRAB and manual
Indicator of the level of soil mineralization, phase, and current balance setting
Targeting mode with variable pitch
Adjustable sensitivity and threshold
Shifting operating frequency to avoid interference
Display backlight
4. Minelab E-TRAC Metal Detector
The E-Trac metal detector is a new high-tech development from Minelab that uses a unique multi-frequency search technology familiar to users of metal detectors using the Explorer series.
The E-Trac touts a modern design, an innovative control panel, an intuitive menu, a large and clear LCD screen, a new lightweight reel, and numerous tuning options.
The E-Trac is a new standard in the production of coin finders. For the first time in the world, Minelab engineers equipped a metal detector with a USB interface, with which E-Trac users can download settings, operating modes, and discrimination masks from their personal computers.
The technologies applied in the E-Trac detector allow searches both in ordinary soil and in highly mineralized environments such as salt sand, seawater, wet beach sand, and soils with a high magnetic component.
Using the E-Trac metal detector, you will be the most successful treasure hunter, regularly combining forays into nature with metal detecting old coins, jewelry, etc.
Features:
Advanced signal processing using FBS technology analyzes more target information, so that target identification is more accurate
QuickMask with independent ferrous and conductivity rejection level adjustment – a fast and simple way to edit patterns
Exchange USB functionality – create download and upload your favorite E-Trac settings and save them to your computer or with friends by email
Ground Setting options of Neutral and Difficult allowing you to adapt easily to benign or the most challenging operating conditions
User-centered keypad and menu design – fast and easy to use with intuitive icons and logical menu sequences
5. White's Coinmaster Metal Detector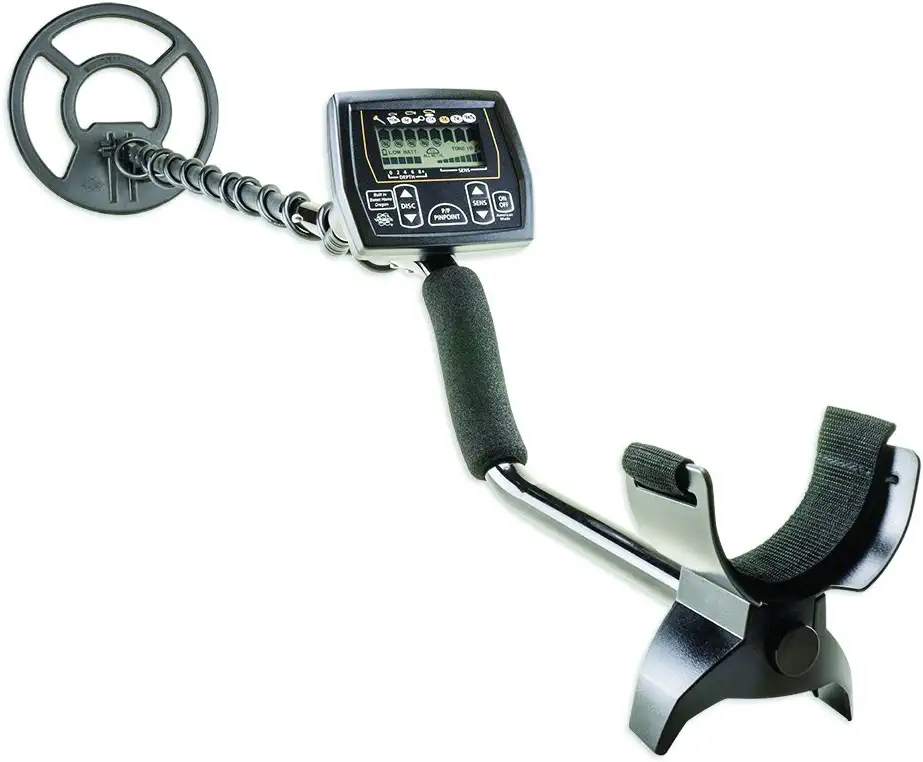 Whites CoinMaster metal detector is the middle-of-the-line model from the company, replacing the well-proven detector Prizm III. CoinMaster is suitable for those who want to buy a universal device with reliable quality for a low price.
It is perfect as the first device for new searchers.  Whites CoinMaster metal detectors are perfect for searching both in antiquity and in small objects, as well as in metal detecting gold coins.
Due to its accurate signals and depth of search, this coin detector will please both beginners and already more experienced searchers.  Whites CoinMaster can screen out ferrous metals and more accurately indicate the color of metals than most of its competitors.
At first glance, a simple device is quite capable of competing with detectors of both the middle and professional classes.
Features:
SENS – adjustment of sensitivity to objects made of metal and interference. The greater the sensitivity value, the deeper the object can be detected, but the influence of the soil and electromagnetic pulses also increases
P / P – enables accurate positioning of the object. Discrimination in this mode does not work
DISC – ignores unwanted targets and consistently disables the response from 5 object types at a time; in total, the display shows 8 types
Specifics of Metal Detecting for Coins?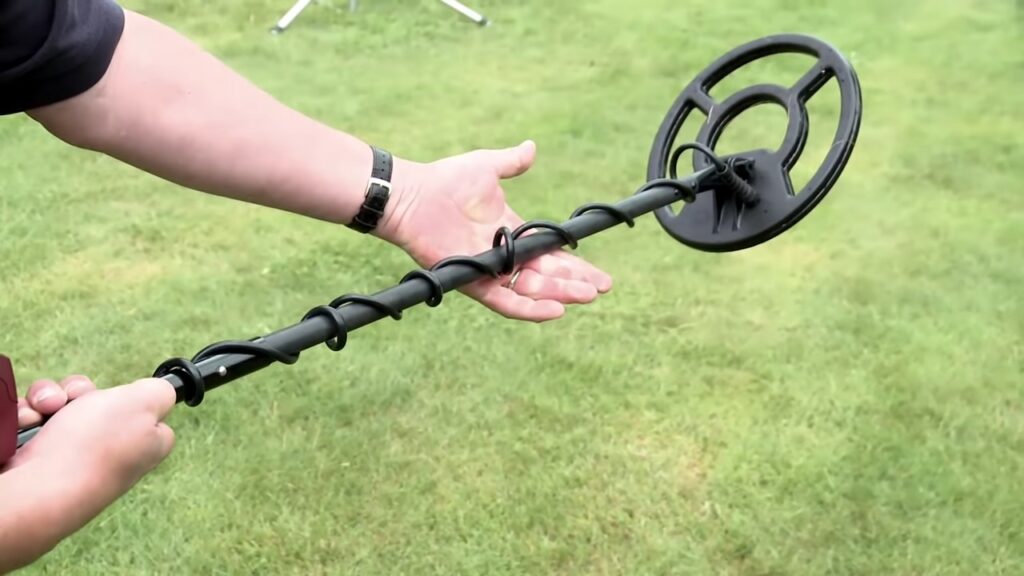 There are several types of metal detectors that are not suitable for searching for coins, as well as metal detecting silver coins.
Depths units feature the maximum depth of search but have a very small sensitivity to small objects. They are used to detect pipes or search for scrap metal and hoards.
Devices for searching gold nuggets do not have the discrimination to accurately search for coins. In order to find gold coins, the device must have absolutely high sensitivity. This means that when using this machine to search for coins, you will constantly dig small pieces of iron, shot, etc. It will be impossible to separate coins from all of this.
Mine detectors have a lot of weight and minimum functions.
Kids detectors are the cheapest and least effective devices for detecting gold coins.
The metal detector for coins must have sufficient discrimination to separate the targets. The wider the range of the discriminator, the more accurately you can create your own coin mask for the metal detector.
A coin mask is a search program of a metal detector.
The manufacturer presets for the metal detector's coin mask do not often correspond to realistic parameters. For example, coins made in the USSR, do not get into the coin mask of the Garrett ACE 250 metal detector.
Some coins of the colonial era will be ignored in the Minelab Explorer coin mask. Therefore, the coin mask in the metal detector must be edited customized for your search needs.
Own mask is an editable metal detector program that you create yourself.
Best Frequency for Coin Hunting
Coin seekers must consider all settings and programs for quality hunts.
Discrimination scale and sound polyphony
If you are going to look for coins, you should understand that, in addition to the valuable silver in the ground, there is a lot of iron trash that needs to be cut ignored. Devices with a scale of discrimination easily cope with this.
A certain number corresponds to each metal, iron being the smallest. Non-ferrous metals are located on the increase in electrical conductivity. The highest value corresponds to silver and copper.
Looking at the screen is not always convenient, especially in littered places, where the soil is replete with signals. Therefore, the instruments produce a separate sound for each metal. Chermet makes a dull sound, and positive goals ring out.
Ground tuning
Modern devices differ from older models. They easily adapt to changing search conditions. Difficult soils create unnecessary squeals that distract, so the task of this function is to build up from the soil and stabilize the detector.
Detuning from electrical noise
Difficult soils aren't the only factors to interfere with the search. Your mobile phone can also interfere with the stable operation of the equipment. If you are close to power lines, there may be failures.
To solve this problem, there is a function of detuning from electrical interference. In addition to these options, it is important that the metal detector weigh little and easily lay in your hand. Modern devices have height adjustment options to facilitate best positioning.
Where to look for coins?
After you've decided on your equipment, the next step is to determine where you'll perform your excavations.
Consider searching
Old villages and roads. With the help of old maps, found free on the internet, you can discover the places where people used to live in ancient times. Previously inhabited areas are prim search zones.
Beaches. Here you can find modern money, and if the beach is old, then there is a chance to find something old. Keep in mind that you'll find rubbish on the beach as well.
Parks. Here you can find many interesting artifacts. Remember not to disturb the rest of the litter and bury holes before you leave.
Coin searches are a popular and common way to dive into the world of metal searching. With specialized technology and a variety of metal detector options, the potential is endless for those willing to put in the work. So if you're looking for the best metal detector overall on the market we have a perfect post for you.
Foldable Metal Detector, Professional Waterproof Gold Silver Detector, Backlit LCD Display, High Accuracy Coil Metal Detectors for Treasure Hunting, Blue
UPGRADED DSP CHIP: Gold metal detector attached with upgraded DSP chip, which has higher accuracy and a wider search range, and greatly improved detection efficiency. 8 levels of sensitivity and adjustable depth of detection can detect a depth of 10 inches, which is 2 inches deeper than other metal detectors.
5 OPERATING MODES: Including All-metal, DISC, NOTCH, PP, and Memory modes. All metal - you will be notified whenever metal is detected. DISC - it can detect specific metals. PP - can be a more accurate detection. 9 kinds of metal detection will make your detection of objects more comprehensive and accurate, improving the efficiency of detection.
ADJUSTABLE & FOLDABLE DESIGN: Compared to other metal detection, our metal detector can be folded up with just a touch and stored in the equipped bag, no complicated assembly is needed. This lightweight and folding metal detector for adults easy travel to any of your favorite treasure-hunting spots.
INTUITIVE LCD DISPLAY: Equipped with an LCD in the detection process will show the mode, results, volume, depth, sensitivity, and other information. In addition, the LCD has a backlight function, even when detecting at night, just press the backlight button to see the information on the screen.
IP68 WATERPROOF SEARCH COIL: The IP68 waterproof search coil, even if can continue to detect freely underwater. The comfortable armrest design saves more energy and comes with an adjustable wrist strap and pole to make your arm more comfortable and less stressful. Also, no need to bend over, free your back, and easy to carry.
OMMO Metal Detector for Adults, High Accuracy Adjustable Waterproof Metal Detector, with Pinpoint & Disc & All Metal Mode, Great for Detecting Gold, Coin, Treasure Hunting
👣👣HIGH ACCURACY & WATERPROOF SEARCH COIL: 10-inch metal detector with IP68 waterproof search coil, it has a high sensitivity, it detecting depth of up to 8 inches deep for small coins and metal objects, larger objects up to 3 feet. Waterproof search coil enables you to use detecting to underwater, Perfect for outdoor, like beach, stream, and yard. (Note: the control box is not waterproof)
👣👣3 STRONG MODES OF OPERATIONS: OMMO metal detector kit has three distinct modes that make you can optimize from in detecting metals. ① All Metal Mode - the metal detector notifies you whenever it sees any metal. ② Disc Mode - you can utilize this gold metal detector to discriminate against other types of metal for a specific one. ③ Pinpoint – According to your environment to choose the different positioning strength, aids in the detection of metals by beeping
👣👣LARGE BACK-LIT LCD DISPLAY: Usually is used beach metal detectors for adults, which equipped with a large back-lit LCD screen to display different detecting depth, discrimination, operating mode, overload warning, sensitivity level, and battery level you can get information intuitively from the screen, which let you detecting more efficient and time-saving
👣👣HUMANITY DESIGN & ADJUSTABLE: Don't worry about the length of the stem, the metal detector from 30 inches to 41-inch adjustable stem, suitable for different height adults. And the armrest design will help you to save more effort, makes you more comfortable and less stressed. Let's start your treasure hunt with the lovely OMMO metal detector
👣👣KINDLY KNOW THAT:There are some factors are likely to interfere with the correct signal from the metal detector. 1) Not put the device on the floor, cause most of the building floor has much metal embed. 2) Not suggested to use it indoors, large appliances can also interfere with metal detectors. 3) If you use it outdoors, avoid highly mineralized soil, places with metal waste. If you carry a digging tool, please also place it a little further away from the metal detector when detecting
DR.ÖTEK Metal Detector for Adults Professional, Gold Metal Detector, Pinpoint & Exclusive Memory Mode, Higher Accuracy, IP68 Waterproof Coil, Bigger Backlit LCD Display, New Advanced DSP Chip, Black
TOP METAL DETECTOR FOR ADULTS. This adults metal detector kit is an exciting new addition for both professionals and enthusiasts. Offers 5 upgraded modes including Pinpoint Mode, All Metal, Discrimination, Memory, and Jewelry. Innovative Memory Mode allows you to only detect one metal type that you want. Locate exactly what you want in far less time.
LARGE METAL DETECTOR LCD DISPLAY has a big clear 3" x 2.2" screen that is easy to read. Backlight lets you work in the dark for a great deal more flexibility. 3 display modes to easily identify the type of metals you are detecting. Displays digital image and sound with multiple settings for customization.
9.8" WIDE SEARCH COIL is so powerful it can locate a quarter coin up to 10" underground. This waterproof metal detector can find larger objects at even greater depths. The coil is IP68 waterproof and works well in shallow water.
ADJUSTABLE STEM & SENSITIVITY. 42.7" to 53.5" adjustable length suits adults of different heights and is also suitable for kids. With 5-level sensitivity, you can adjust the sensitivity to counteract some interference factors and find the target faster. Spend far less time detecting while finding more exciting precious metals and antique artifacts.
PERFECT GIFT WITH ACCESSORIES. You can get more than an outdoor metal detector and including a premium headset, a heavy-duty digger shovel and a multipurpose carrying bag. Save your extra time for purchase. Not only an excellent choice for travel, vacations, camping trips, and outings but also a great birthday gift, holiday present, anniversary gift or give for Father's Day and Mother's Day.
SAKOBS Metal Detector for Adults Waterproof - Professional Higher Accuracy Gold Detector with LCD Display, DISC & Notch & All Metal Mode, Advanced DSP Chip 10" Coil Metal Detectors
💰💰10 inch High Accuracy & IP68 Waterproof Search Coil - Metal Detector Kit with 10" Expanded Search Coil is so powerful it can detect a quarter coin up to a depth of 10". IP68 waterproof technology enables you to start treasure hunter on beach, shallow water, underwater, shallow salt water and land (Note: the control box is not waterproof)
💰💰Best Intermediate Metal Detector for Adults - Sakobs waterproof metal detector is designed for beginner and enthusiasts. Three modes of operation (🚩All METAL MODE, 🚩DISC MODE, 🚩NORTH MODE) are provided to identify Six Types of Metals, allowing you to easily operate our silver detectors
💰💰Larger LCD Display - Our Outdoor Ring Metal Detector has a large clear screen, let you easily get the type, depth, identification, sensitivity level, low battery indicator and operating mode of the metal target even at night or in low light areas.
💰💰Adjustable Stem & Perfect Gift - Lightweight metal detector for gold is equipped with 41.3 inch to 47.6 inch adjustable retractable stem, suitable for both adults and children. Not only a great choice for vacations, camping trips, but also a great birthday gift, holiday gift, anniversary gift or gift for Father's Day and Mother's Day。
💰💰Worth-own Complete Accessories Package and Strong Service: You will get a Top handheld Metal Detector, a portable carry bag, a great toughness and high abrasion resistance shovel,user manual, worry-free 36-month warranty and our strong customer service.
Bounty Hunter Land Ranger Pro Metal Detector, 11 Inch Waterproof DD Searchcoil, Adjustable Length, Lightweight, Ergonomic, Comfortable Padded handgrip, and armrest, Detect Coins Up To 10 Inches Deep
ADVANCED TARGET ID TECHNOLOGY: The Land Ranger Pro utilizes state-of-the-art technology to locate and identify metal targets buried deep underground. This metal detector has 99 points of TARGET-ID resolution and 4-Tone TARGET-ID, providing the most accurate target identification possible. Programable target discrimination, decide what you want to detect, like gold and silver and what you don't want to detect, like nails and aluminum foil.
ALL TREASURES ALL ENVIRONMENTS: 7-Modes of operation allow quick set-up for any treasure hunting (Coin Hunting, Relic Hunting, Jewelry Hunting, etc.) in many environments (Parks, yards, fields, and beaches). Or customize your settings to fit your exact needs. Ground Grab (computerized ground balancing) automatically tunes the Land Ranger Pro to ground mineralization with one button press.
DEEP-PENETRATING METAL DETECTOR: The Land Ranger Pro has an 11" DD waterproof searchcoil for increased depth and target separation. Finds coin-sized metal targets on the surface and buried up to 10 inches deep.
ALL PURPOSE METAL DETECTOR: Can detect all types of metal. Perfect for jewelry, coins, and artifacts, and you can even find gold nuggets on land and shallow water.
LIGHTWEIGHT AND EASY TO CARRY: It weighs just 2.5lbs and is well balanced with an ergonomic handle and padded armrest so you can treasure hunt all day.
Metal Detector for Adults Professional, CAKUJA High Accuracy Waterproof Gold Detector with Larger LCD Display 4" x 4.7", 10" IP68 Coil, Gold Pinpointer New Advanced DSP Chip, 6 Modes
2022 NEWEST UPGRADED METAL DETECTOR for kids and adults professional. This metal detector adopted new advanced DSP chip and CAKUJA brand new design craftsmanship to meet the needs of professionals and hobbyists. With the pinpoint, 6 different modes and super slow sweep identification function, allow you to enjoy the treasure hunting highly efficient.
LARGER, INTUITIVE, EASY-TO-USE LCD DISPLAY, our metal detectors used a clear 4" x 4.7" large screen which is easy to read. Larger LCD lets you instantly see the depth, recognition, and sensitivity level of any detected object. Using the backlight, you can hunt in the dark more flexible and simple. Adjusting various setting with long or short button presses, you can customize the ideal target detecting modes.
SIX DETECTION MODES & THREE DIFFERENT TONES. Our metal detector pinpointer has six multiple target detecting modes. According to the LCD display showes IRON, 5¢ , P-TAB, 1¢ , 10¢, 25¢, you can accurate setting the relevant target metal object. Besides, the detector comes with three tones ( low, medium, high ) for different types of metal. CAKUJA handheld metal detector makes your treasure hunt more easy and effectively.
ADJUSTABLE & ERGONOMIC STRAIGHT STEM HANDLE. This underwater metal detector is adjustable in length from 43.3" to 60.2" and a great tool for kids and adults for coin history, artifact collecting and fun scavenger hunt science activities. Metal detection activities will be part of your family's outdoor activities, keep your children away from video games, protect eyesight, and provide a smart choice for science education for students and parent-child activities.
10'' WIDE IP68 WATERPROOF SEARCH COIL & PERFECT GIFT KIT. Our metal detector for adults has strong anti-interference, higher sensitivity and search range, can search 10" underground metal objects. The oversized IP68 waterproof search coil, allow you to freely use the detector underwater. (Note: the control box is not waterproof).
TECLUNG Metal Detector for Adults Waterproof, Professional Higher Accuracy Gold Detector, with Disc & All Metal Mode, 8" Search Coil Metal Detectors, Great for Gold Coin Treasures Hunting Beginners
【Multi-functional Operation Mode】Metal detector has different modes, you can be optimized from the detection of metal. Choose different positioning strengths according to your environment and help detect metal through buzzer.
【Waterproof Search Coil】Our metal detector has a 8-inch search coil. Its detection depth is between 0 and 8 inches.GT620G waterproof metal detector enables you handle well in shallow water. It is equipped with a good chip and search coil, with high sensitivity and search range. Suitable for gold digger in outdoor treasure hunting on beaches, seaside, parks, forests, farms and yards etc(Note: the control box is not waterproof)
【HUMANITY DESIGN & ADJUSTABLE】The metal detector from 30-42inch adjustable stem is suit for different height people. The armrest design helps you to save more effort, more comfortable.
【LCD Display】Our metal detector has LCD Display. It shows different identification, operation modes, sensitivity levels and battery status, you can get information directly from the screen, making your detection.
【Widely Applied on Treasure Hunting】Field exploring, detecting metals, beach detection, detecting coins. Our metal detector is not only suitable for adults, but also for teenagers and children. Perfect for exploring with friends. Not only a great choice for travel, weekend trips, camping, but also for birthday gifts, holiday gifts.
RM RICOMAX Metal Detectors for Adults - Professional Gold Detector for Treasure Hunt, IP68 Waterproof 10" Search Coil, Higher Accuracy with Stong Modes, Adjustable LCD Display with Headphones
💰Convenient to Use - RM RICOMAX metal detector weighs only 2.31 pounds, is really lighter than others. The ergonomic handle design makes it perfect for all-day use, and the adjustable height(41.3" to 47.6") makes it suitable for both adults&child. INTUITIVE LCD DISPLAY makes you can see the detection mode, sensitivity level, battery condition, and volume level conveniently, and you can also light up the screen if you want to detect metal in the darkness.
💰4 Strong Detection Modes - RM RICOMAX metal detector can detect metals including iron, aluminum, gold, bronze, silver and their articles in ALL METAL Mode. The DISC & NOTCH Modes make you can ignore unwanted metal improving the detection efficiency, then you can pinpoints the location of target accurately in P/P Mode.
💰IP68 Waterproof & Big Search Coil - The underwater metal detector is an IP68 waterproof unit with a 10" big search coil, and the shaft that the coil is connected to is made of aluminum. The Advanced DSP Chip makes it more accurate than others and you can detect up to 10" depth, which means you could take it to a river or the beach to explore the hidden treasure underwater.
💰Advanced Chip & 10" Detection Depth - This metal detector now uses the most advanced chip in 2022. Compared with last year's version, we have enhanced the automatic balance technology of the coil, which can detect underground depths up to 10". Whatever you're a beginner or advanced metal detectorist, GC-1037 metal detector will be an unmissable choice in this summer.
❤❤ No Risk Investment & Full Accessories - Not only you can get 1×Metal Detector, but also have 1×Carrying Bag, 1× Shovel (more durable & strong than other shovels). It has a headset jack that can be used with conventional headsets, two batteries are included. All our metal detectors were manufactured under strict quality standards and 100% checked before shipment. We offer LIFETIME call center support, any questions please contact us, and for sure we will find the right solution for you.
Professional Metal Detector for Adults with pinpointer, Detector de metales oro y Plata for Kids, 10" Waterproof Coil Adjustable and 6 Modes Higher Accuracy, for Detecting Gold Silver Gem Diamon
Experience powerful and versatile metal detection. Our metal detector features 6 operation modes, including SENS, DISC, NOTCH, A-M, VOL, and PINPOINT, allowing you to easily detect a variety of metals, such as iron, aluminum, gold, bronze, and silver. Perfect for treasure hunting and finding your desired metals with ease.
Designed with portability in mind, our metal detector is lightweight and features a foldable search coil and an adjustable stem that can be adjusted to a comfortable height of 29 to 40 inches. Whether you're traveling or enjoying outdoor activities, Perfect for on-the-go metal detection.
Our metal detector is equipped with a 10" IP68 waterproof coil probe and a clear LCD display, making it possible to detect metals in shallow water or wet environments. The screen displays detection mode, sensitivity, battery status, and power level, providing clear and easy-to-read information during use.
Boasts high-accuracy and stable detection with a detecting depth of up to 8 inches. Its all-metal mode provides efficient detection of coins, keys, gold, silver, jewelry, and their articles. With a DSP chip, our metal detector offers accurate and precise detection.
Built to last, GOYOJO's metal detecting pouch bag is made of high-quality nylon material for durability. Our foldable compact E-tool emergency shovel is a camping essential, perfect for entrenching, shoveling, digging, sawing, chopping, and hammering. Additionally, our headphones are compatible with all devices that have a 3.5 mm audio jack, delivering bass sound, durability, and comfort.