At Baseoutdoor, we understand the importance of having the right footwear for beach outings. Protecting one's feet from hot sand, insects, and potential hazards is paramount. While searching for the perfect pair might seem daunting, I've compiled a concise guide to aid in your decision-making process.
When you're on the hunt for top-quality beach shoes, it's crucial to consider several factors. These range from your personal comfort to the materials used and the beach activities you intend to engage in. I'm here to provide insights to help you make an informed decision for your upcoming vacation.
Did you know that you can make your shoes even prettier? If you want to add some extra details to your footwear in the form of some cool patches for an affordable price, visit Patches Co. They offer a wide variety of options that offer beautiful and imaginative designs that will spice up the design of your shoes. 
You can also attach these patches to other pieces of clothing to make trendy combinations and add some diversity to your outfit department. The durability and the materials are of fantastic quality, and they will not fade easily. Custom patches make your shoes more interesting.
Our List of The Best Footwear for Sand and Beach
1. Merrell All Out Blaze Sieve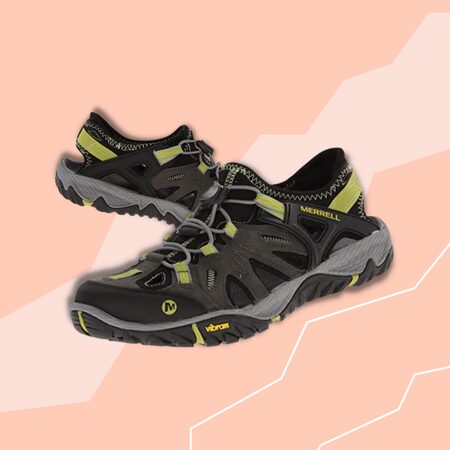 Over the course of years, we have had a chance to see water shoes for sand and beach evolve in various aspects, especially when it comes to material, design, and manufacturing technology. One of the best examples of this evolution is these Merrell All Out Blaze shoes.
This product is actually a pair of water sandals with a closed-toe design that provides excellent protection to your feet and prevents any type of foot injuries that might occur. If you are an active outdoor enthusiast that enjoys walks on the beach, then these shoes are one of the best things your feet can ever need.
For everything that you get with these, the price seems more than reasonable, especially because they will meet or even exceed any expectations you might have. The most important thing is that they provide excellent levels of comfort and support on challenging terrain and that they are very easy on your feet. It is an excellent pair well worth checking out.
Pros
Excellent support on sand terrain
Quick-dry design
Comfortable and easy on your feet
Snug fit
Antimicrobial technology for keeping your feet fresh
Cons
Leather is not very durable
2. SUOKENI Quick Drying Slip-On Water Shoes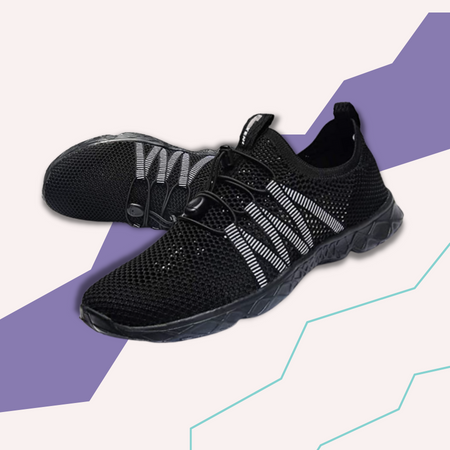 Suokeni quick-drying water shoes for the beach are excellent pair of footwear designed to combat water, sand, or anything else you might encounter on the beach. They are a product coming from the Suokeni store and are available in 27 colors for you to choose from.
If you spend multiple hours along the beach, river, or lakes, these shoes will serve your purpose fantastically. The way the soles are made instantly removes water and sand from them. Moreover, they are very comfortable and light, so you will be able to spend hours in them without feeling any ache in your feet.
With this model, you can easily forget about rubbery flimsy water shoes, as these have both structure and support to satisfy all the needs you might have for beach walks. What is even better is that they are relatively inexpensive and offer exceptional price/value ratio, which everyone seeks nowadays.
Pros
Very soft texture
Available in 27 color options
Versatile
They can be worn in and out of water
Top-of-the-line sole
Inexpensive
Cons
They start to rub after a while
3. Wave Runner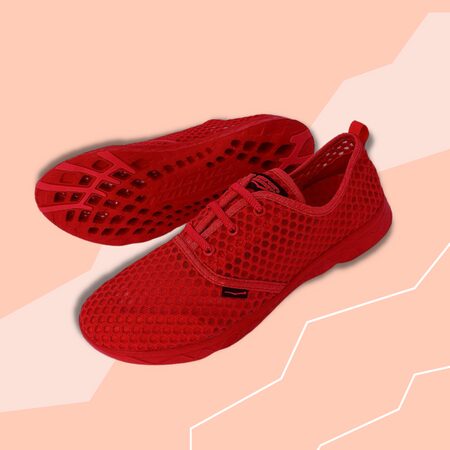 Coming from the Wave Runner store, these shoes for sand are jam-packed with cool features that will ensure carefree beach walking sessions. This pair boasts mesh material around the foot that is stretchy and slip-free, while the whole shoe is incredibly light and easy on your feet.
The outsole of this shoe is very thick and anti-skid, which largely contributes to overall durability. The drainage hole sole is also a nice little touch, as it helps you keep the shoes stay as dry as possible, which is a feature that is much-needed for this type of footwear.
Another great piece of news is that this model will ensure you have a steady footing. You will not have to worry about losing your grip when walking on slippery and uneven surfaces. Since they are so comfortable, you can forget about blisters as well. They are also quite affordable, so given all the features they possess, these shoes are well worth checking out.
Pros
Thick but very flexible sole for a better grip
Lightweight
Comfortable
Easy to put on and off
Affordable
Cons
Pebbles may get stuck in the sole holes
Not very good foot support
4. KEEN Whisper Closed Toe Water Sandal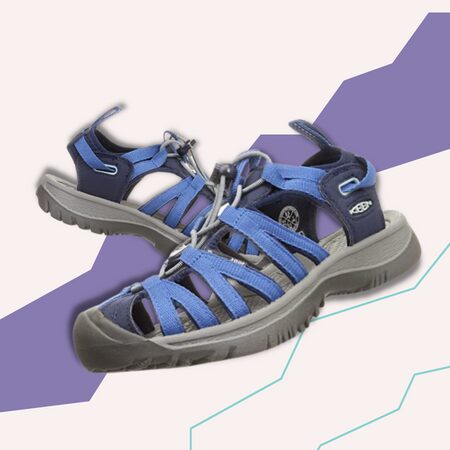 If you cannot make a decision between sandals or sneakers for your summertime beach walks, this model from the Keen store might be exactly what you are looking for, as it offers the best from both worlds. They are extremely compact and light, and you can choose them from 29 color patterns available right now.
This pair boasts the webbed design and is made from quick-dry polyester lined with water-repellant mesh that will ensure your feet stay dry. These water sandals also incorporate a pesticide-free probiotic-based odor-reducing technology that breaks down smells and keep your feet fresh for longer periods.
There are also lugged soles that offer superb grip, and the molded EVA midsoles come with cushioned arch support so that you can stay comfy during longer walks. You also get adjustable bungee laces that are designed to keep your feet secure and give you better support. Overall, this pair is perfect for beach walks and could even be perfect for your next camping trip, and although it is pricier, the features it comes with are worth every penny.
Pros
Excellent traction
EVA midsoles with cushioned arch support
Adjustable bungee laces
Available in 29 color patterns
The uppers dry very fast
Plenty of space in the toe area
5. WateLves Water Shoes Barefoot Quick-Dry Aqua Socks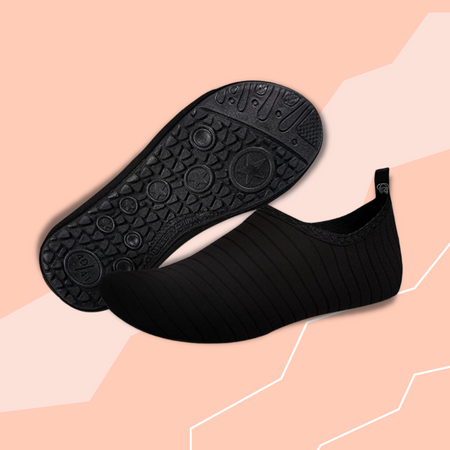 Coming from the WateLves store, this footwear is highly flexible and an ideal choice for walks on the beach. It is so comfy that you will feel almost like you are walking barefoot, but with no risks of injuries or the uncomfortable feel of sand getting stuck between your toes.
These shoes are manufactured with great attention to detail and are made with very comfortable rubber soles that provide ultimate flexibility for all movements. There is also extra cushioning for utmost comfort and a toe guard that will protect your toes from uneven surfaces and sharp objects you might run into on the beach.
Another great feature of these shoes is definitely the drainage holes. These holes aid you in keeping your shoes dry, which is a very cool thing to have if you like to step into the water a bit when walking on the beach. Overall these shoes are very smooth, elastic, and comfy, and what is even better, they come with a pretty low price tag.
Pros
Comfortable cushioning
Drainage holes that keep your feet dry
Fabric is soft and elastic for easier movement
Plenty of different color patterns to choose from
Soft and flexible shoes for easy packing
Affordable
Cons
The toe guard is not very durable
6. Birkenstock EVA Sandal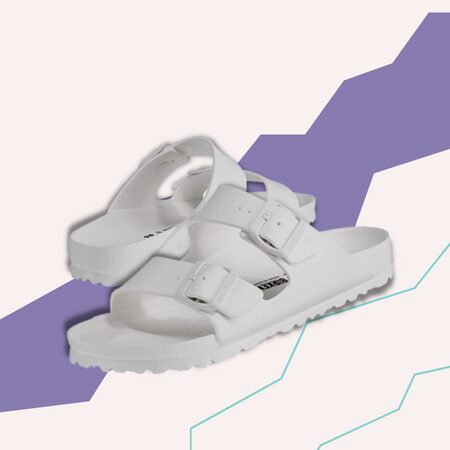 If you want to have comfortable walks on a beach without sacrificing style, this trendy sandal model might be exactly what you need. It is a two-strap sandal that is very visually appealing and functional and is also growing in popularity over the last couple of years.
These shoes are available in a wide variety of color patterns, and aside from looking pretty, they are also very functional and convenient for walking on uneven surfaces such as sand. It is a great all-around, quality beach shoe, but it is also great for everyday use due to the high levels of comfort it provides.
This EVA-style sandal is also waterproof and offers a contoured footbed and deep heel cup that will keep your feet in a suitable alignment. The possibilities are truly diverse with this pair, and what is even better, they are quite affordable, depending on the size you want to get.
Pros
Stylish
Waterproof
Suitable to wear outside the beach
Excellent feet support
Smooth footbed
Cons
A bit noisy when your feet get wet
7. ALEADER Mesh Slip-On
These slip-on water shoes are one of the latest arrivals from the Aleader store and are designed specifically for walks on uneven surfaces such as sand while also providing sufficient protection from water and keeping your feet dry at all times. This particular model is for men, but it is almost identical in every way to the women's version.
This model holds up very well, and its design ensures that it can endure easygoing use as well as harder abuse. These shoes generally appeal to casual users that just want a pair of water shoes for the slow beach or river walks but are also suitable for users that want something flexible.
These shoes are extremely light and often feel like you are wearing nothing but socks. However, they do lack adequate feet support, so they are not particularly good for long walks. Nevertheless, they are great for water activities and walks on the sand, and what is even better – they come with an affordable price tag.
Pros
Lightweight
Breathable mesh uppers
Drainage holes that keep your feet dry
Sand stays out of mesh
Anti-slip soles
Cons
Lack of feet support
Rocks easily get stuck in drainage holes
8. DLGJPA Quick Drying Water Shoes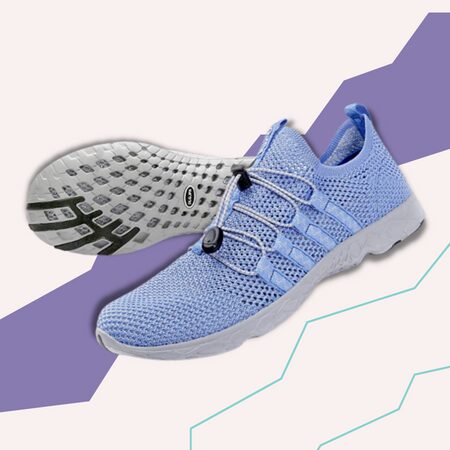 Coming from the DLGJPA store, these quick-drying water shoes for the beach are highly supportive of your feet and are available in over 20 astonishing color patterns. It is a pair that is highly popular among users due to its design and the incredible levels of comfort it delivers.
These shoes are equipped with anti-slip rubber soles for extra stability and a flexible and cushioned footbed that will make you feel like you are going barefoot. The treads are durable enough to walk over rocks, sticks, and other debris you might encounter on the beach without feeling it on your feet.
Another great thing about this pair is that it boasts quick-drying mesh uppers and outsoles with excellent drainage holes, which means you will not have to worry about your feet staying dry. Moreover, they are incredibly light, which is precisely what you need for chill walks on the beach or river.
Pros
Quick drying mesh uppers
Drainage holes on outsoles
Multiple color patterns to choose from
Anti-slip rubber soles
Durable
Cons
Sizing might be inaccurate
9. Speedo Water Shoe Surfwalker Rush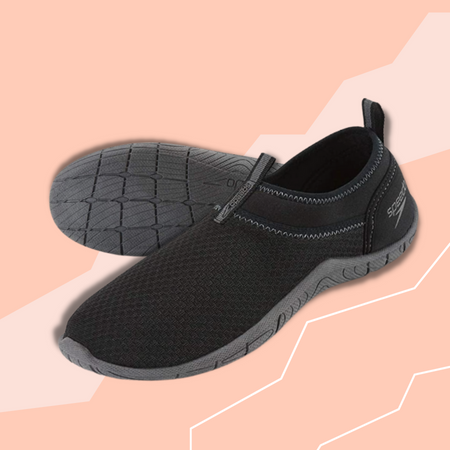 In case you are not a fan of traditional beach footwear, the Speedo Surfwalker Rush shoes offer an exceptional and stylish alternative for you that will still get the job done and protect your feet from uneven surfaces, sand, sharp objects, and, of course, water.
These shoes hold all the hallmarks of excellent water shoes, including a pretty good anti-slip rubber sole that will keep you steady on your feet, a stretchy upper, and an adjustable bungee lace system that will allow you to achieve a cozy glove-like fit.
In addition, these shoes are suitable for long walks, and you can practically wear them throughout the whole day due to their incredible comfort levels. Moreover, your feet will stay dry since these shoes use hydrophobic mesh uppers that dry very fast. Overall, this is a great pair for more than a fair price.
Pros
Multiple colorways
Adjustable bungee lace system for a snuggly fit
Anti-slip rubber sole
Hydrophobic quick-dry mesh uppers
Cons
A wide toe area might not be suitable for some users
Things You Need to Know Before Buying Shoes for Sand and Beach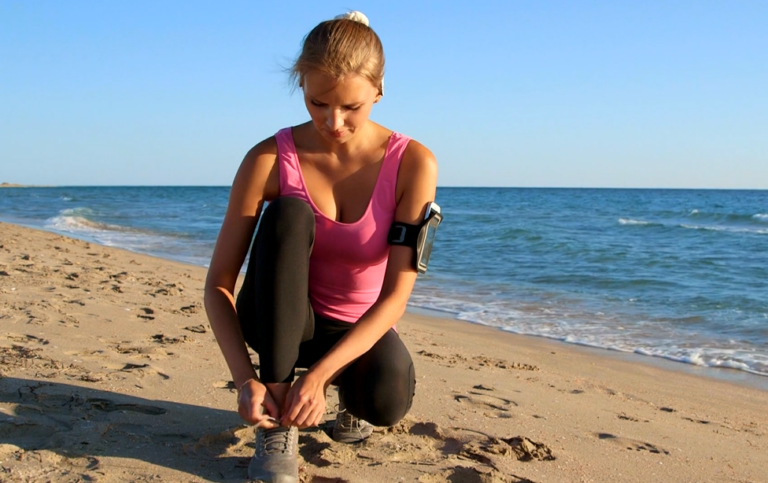 The shoes for sand and beach should do a lot more than just protect your feet. They need to be comfortable, anti-slippery, and breathable, among other things. In order to help you get the best possible product for your money's worth, we have listed some essential things you need to pay attention to when browsing.
Support
In order to avoid any unnecessary pain and injuries, you will require a quality shoe with adequate arch support. This is especially important if you have foot conditions such as plantar fasciitis or flat feet. Look for shoes with molded EVA footbeds and contoured midsoles.
Waterproofing
If just thinking about wet shoes gives you a nasty feeling, you should consider opting for a pair made of porous material. This material allows water to evaporate efficiently and keeps your feet dry at all times. Another great alternative is picking shoes with drainage holes that also eliminate water from your footwear.
Traction
When your feet get wet and sand gets stuck in your shoe, there is an increased chance of slipping and injuring yourself. To avoid such mishaps, opt for shoes with anti-slip properties and keep an eye on deep grooves, high-traction soles, and gripping materials that can prevent slipping.
Breathability
The fact that you are walking on the beach near the water does not mean that your feet will not heat up and make the whole experience much more uncomfortable. To avoid this, look for footwear that is designed using breathable materials so that you can get suitable air circulation, keep your feet dry, and stay comfortable.
Material
To get the most out of your water shoes and get the best comfort you can, opt for shoes that are made of skin-friendly materials. Look for shoes that are made of materials such as mesh, leather, or textile.
Before you spend money, make sure that the upper part of the shoes uses some sort of breathable mesh or leather material that holds your feet snug but not too tight.
Durability
Although the durability of the shoe is a rather unpredictable factor, there are still ways in which you can separate horrible and cheap shoes from quality, well-made pairs. Before purchase, make sure to inspect the shoe completely and to look for any defects that might be on it.
Flexibility
Given the fact that you will be using these shoes for walking on sand and beach that are quite uneven surfaces, it is essential to buy footwear that has a certain amount of flexibility.
Without a flexible sole, you will not be able to make basic motions like walking without feeling ache or getting blisters, so choose your shoes accordingly.
Frequently Asked Questions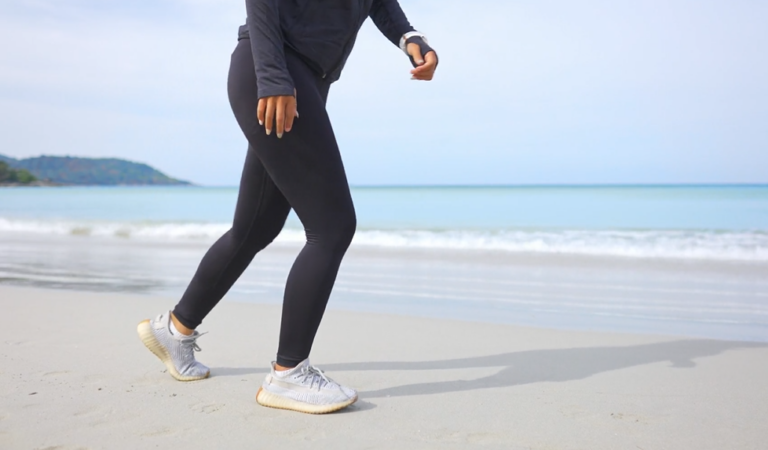 1. Is it possible to swim in water shoes for sand and beach?
Absolutely. Water shoes are designed for a wide variety of water sports and activities, including kayaking, paddle boarding, and even swimming in locations where the ground is rocky, and there is a risk of injuries.
2. Do shoes for sand and beach need to be tight or loose?
When it comes to water shoes for the sand beach, it is advisable to get your exact size for the best fit. They are made to grant you good traction and stability on wet and dry surfaces alike, which can be very difficult with a loose pair. On the other hand, a pair that is too tight will eventually start feeling uncomfortable, so look to buy your exact size.
3. Which type of footwear is best suited for the beach?
Although all styles we have listed today are suitable for the beach, it is a popular opinion that platform sandals are the best choice since they are comfortable, stylish, and fashionable. They effectively protect your feet from hot sand, plus sand pebbles will not get stuck between your toes.
4. How should I clean my shoes from the sand?
There are several ways you can approach this. One of the simplest ways is to beat the shoes together, and often enough, the sand will simply fall off them. You can also dunk them into water or use a pressure hose. A hand vacuum also does the trick, but you can also try it with baby powder, which is known as an alternative tool for removing sand.
5. How to effectively remove sand from the mesh?
One of the most popular and effective ways is to put them in the mesh bag until you get home, then soak them in cold water for 10 minutes, after which the sand grains should separate from the fabric.
6. Will salt water increase the deterioration of my shoes?
Yes, salt water has a deteriorating effect that works over time, which is why you should look for shoes that can dry quickly and do not absorb water into the body.
7. Are water shoes comfortable?
When you do your research and choose your water shoes correctly, they can be incredibly comfortable. Not only that they feel securely on your feet, but they also protect you from the junk that is often found around the water.
Final Words
Walking on the sand and beach is one of the most relaxing and liberating feelings you can enjoy during your vacation on the sea, and to do it in a comfy fashion, you will need to have a suitable pair of shoes.
I remember a time when I wore the wrong shoes to the beach and ended up with sand-filled shoes and a minor blister. It's a lesson I won't forget! The right pair of shoes can make all the difference in ensuring comfort during these serene moments.
We belive that our guide has been beneficial. If you're still uncertain about your choice, consider revisiting our top three recommendations. Each of these selections is tailored for beach walks and promises outstanding comfort. We wish you a delightful beach experience with the ideal pair of shoes.