Metal detecting is a hobby for all ages, and when you're engaging the family in your fun, it's important to remember that your little ones may not need all the bells and whistles as they start out.
Top Pick
Good Pick
Also Consider
Bounty Hunter TK4 Tracker IV Metal Detector with 8-inch Waterproof Coil
Bounty Hunter QSI Quick Silver Metal Detector, Black
Minelab X-TERRA 305 Metal Detector
Top Pick
Bounty Hunter TK4 Tracker IV Metal Detector with 8-inch Waterproof Coil
Good Pick
Bounty Hunter QSI Quick Silver Metal Detector, Black
Also Consider
Minelab X-TERRA 305 Metal Detector
There are models and makes specific to child use, and you'll find low to high-end products at a range of prices. Remember that your children are amateur searchers and do not need the more robust functionality to begin.
When you make a purchase, you need to focus on simplicity, efficiency, and low cost. Fortunately, there are many brands that produce affordable and easy-to-use metal detectors for children.
Each has its own strengths and weaknesses. To increase the chances of acquiring the best metal detector for children, you must take into account such factors as the age, attention level of the baby, and the size of the metal detector.
If you're in search of the best metal detector on the market for yourself check out our post on it.
Comparison Table:
Top Best Metal Detector for Kids
1. Bounty Hunter BHJS Junior Metal Detector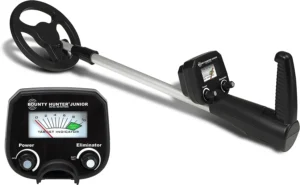 The Bounty Hunter Junior metal detector is designed specifically for children. It is lightweight, compact, and very easy to handle, but a toy it is not.
Bounty Hunter Junior is equipped with a decent discriminator that allows you to avoid unnecessary useless stuff like tin cans. It has a target ID which grows louder depending on the signal level and proximity to the object.
It sees large objects at a depth of 60-80 cm and coins at a depth of 15 cm.
This junior metal detector can work both in the ordinary ground and on the beach, but keep in mind that the coil is not waterproof.
Features:
Powered by two 9 volt batteries.
The sound output in the metal detector is carried out through the built-in speaker located under the display.
Through discrimination, you can ignore unnecessary garbage and instead focus on valuable finds. But be careful, passing the metal detector garbage can also ignore valuable finds with a similar conductivity.
This metal detector may not be large and devoid of some of the "bells and whistles" available in more professional metal detectors, but it is absolutely ideal for children and even for adults who are just starting this fascinating hobby. The metal detector is mid-range and works on VLF technology at a frequency of 6.5 kHz – which allows you to walk on both large and small targets.
Information about the object and its conductivity (gold, silver, iron) is displayed on the switch analyzer, the type of metal can also be determined by 2-tone and broken sound signals.
2. Bounty Hunter Tracker IV
Good performance and versatility allows the Bounty Hunter TK4 to achieve the best results on different types of soils.
Ground balance – automatic Ground Trac without loss of sensitivity, power control – automatic when the device is turned on.
The target arrow analyzer provides information about the detected metallic object and its conductivity (iron, gold, silver). The position of the arrow on the indicator depends on the conductivity of the metal.
Adjusting the sound threshold and pitch of the sensor signal, the audio signal allows you to select a search object and discard the unnecessary. There is a standard ¼" headphone jack.
Features:
Modes of operation: dynamic discrimination.
Control: sensitivity control/switch, discrimination control, button to switch discrimination schemes.
The principle of operation – VLF.
The operating frequency is 6.9 kHz.
Power supply – 2 x 9 V.
Coil – 20.3 cm.
Weight – 1.18 kg.
Sensitivity to a coin with a diameter of 25 mm (5 kop. USSR) – 20 cm.
Extreme sensitivity – 1.0 m.
3. Bounty Hunter QSI Quick Silver Metal Detector
The Bounty Hunter Quick Silver is a digital device with three discrimination schemes, automatic ground detuning without loss of sensitivity, and an LCD display with a 4-band digital identifier.
An easy to learn and use dynamic children's metal detector, the Bounty Hunter Quick Silver is one of the best metal detector for kids. It is capable of detecting small objects at a depth of 20 cm, and large objects at a depth of 80 cm.
Despite its low price, such a metal detector has an automatic ground balance setting, without loss of sensitivity, the touch switch changes the level of "sensitivity-depth" detection, 3-tone audio signal for different types of metals, the" all metals "mode, 3 programs with different levels of discrimination switch button and LCD monitor with 4-segment "Identification/discrimination" on the target type.
Features:
Detects a coin at a depth of 16 cm. Larger size up to 80 cm.
Automatic installation of soil balance.
Dynamic "all metals" mode, 3 programs with various discrepancies.
4 segment target identification.
Standard ¼" headphone jack.
Battery power status indicator (Krone power supply 9 in-2 pcs.);
Search coil 20 cm;
Weight in working condition – 1.35 kg.
4. Minelab X-TERRA 305 Metal Detector
The first in the updated X-terra line was the Minelab X-terra 305 youth metal detector made according to the latest technological capabilities and more stable in various kinds of interference.
The X-terra 305 metal detector now has two search frequencies which noticeably improved the search with this detector. It also became possible to detune from the ground and radio interference.
According to the interface, there were no significant changes, except that instead of the names on the keys there are now pictographs, which makes it easy to set up even for those who are not familiar with a foreign language.
The Minelab X-terra 305 has established itself as a detector for beach and coin search. So intuitively simple with a multi-functional interface that you just do not want to part with this wonderful technology.
Features:
Operating modes: dynamic, static (pinpoint), "all metals";
Two working frequencies: 7 and 18.75 Khz;
Threshold tone adjustment: from -5 to 25;
Soil balance adjustment: 0-20;
Sensitivity adjustment: 0-10;
Manual detuning from interference: 3 modes;
12-segment visual identification;
Multitonal polyphony: 12 tones;
Work time 20-25 hours;
Weight: 1.3 Kg;
3 year warranty;
Coin detection depth: 15-25 cm;
Maximum detection depth: 60 cm.
5. Fisher F22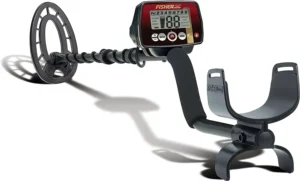 The Fisher F22 belongs to the category of high-tech metal detectors for kids. It has all the necessary parameters for a successful search, even automatic ground tuning.
Its agreeable price and the lack of unnecessary features make the Fisher F22 more attractive to users. This so-called toy metal detector resists any weather, has a mono-coil, pinpoint, iron equalizer, volatile memory, and a large screen.
Its weight does not exceed one kilogram, and the power comes from two AA batteries. The line, the average representative of which is Fisher F22, is famous for its high-quality assembly, as well as search capabilities.
It was released for sale only after passing a large number of tests on various parts of our planet. The power of the coil remains the same, despite the fact that the number of batteries is substantially preserved. This is due to the use of special energy-efficient electrical circuits.
Be sure that no rain or snow will interrupt your search. You can even dive the Fisher F22 into the water, but it should be short while there.
Headphones cannot be used when immersed in water, so make sure that the connector is tightly closed.
A large LCD screen will show you all the information you need to search for an object that has fallen under the coil.
The Target ID is an indicator that is an independent source of information about the find, the depth gauge will tell you how far your object is located.
It indicates the presence of iron in the soil, and the battery charge level is located on the left.
The ellipse-like mono coil has a size of 9 or 22.5 centimeters. It is designed for improved signal and the ability to choose the highest quality goals.
The detection cone at the coil has an elongated and stretched shape. This helps to influence the depth of detection.
Search programs of Fisher F22:
Coins
Decorations
Artifacts
Special setting
The latter function is very interesting since each user can configure the metal detector for their own purposes.
Features:
Waterproof
Power – 2 AA batteries
Adjustable audio metal identification
9-segment visual identification
4 modes of operation: jewels, coins, artifacts, and individually customizable mode
Metal identification scale (from 1 to 99)
Iron identification function
10 levels of sensitivity settings and 20 levels of volume adjustment
Ability to remember individual settings
Lightweight, only 1 kg
9 "elliptical waterproof coil
6. Teknetics Delta 4000 Metal Detector
The Delta 4000 is one of the entry-level devices that is perfect for the price  and quality, both for beginners and those who just want to have a good time in nature at no extra cost.
This kid's metal detecting device has proven itself when searching on the beach for coins, relics, and military finds.
Excellent functionality, ease of administration, lightness both in understanding and in settings is something that will pleasantly surprise beginners.
In spite of its simplicity, the Delta 4000 has some pretty serious features, a two-digit target identifier, dynamic mode "all metals", target designator (PinPointer),
Features:
Digital display of the object category (target ID) in two numbers from 0 to 99
3-tonal discrimination (ferrous metals – low tone, non-ferrous – medium and high tone, depending on electrical conductivity)
8 levels of discrimination (from black to color)
Targeting mode to determine the exact location of the target
Adjustments: discrimination, sensitivity, loudness
Operating modes: dynamic discrimination and "All metals" in dynamics
Battery discharge indicator and depth indicator of a coin type object
Overload signal
Intuitive menu system
2 connectors for all types of headphones – 1/8 "and 1/4"
Preset balance
Kids Metal Detectors Buying Guide
The first tests of the metal detector usually occur while still at home, and then the children immediately find the wires and sockets. Outside, the probability of stumbling on the cable is less, they are usually buried deep, but it is still possible.
Give the detector only to supervised children who understand that wires and other communications are not a toy. This means that it is better to make such a gift to a child who is already at least five years old.
The second tip concerns a sharp piece of iron. Perhaps when you bought a metal detector, you cherished a romantic picture in your head in which your child finds only gold coins with the help of his new toy.
In practice, your child's device will squeak on beer jams, rusty nails, and sharp-edged cans. Therefore, it is better to immediately equip your treasure-hunter with an engineer shovel or a strong scoop and explain to him that it is better to discard most finds—not with bare hands, but with the help of a shovel. Wearing loth gloves is advisable for young children.
Another subtlety of treasure hunting is addressing the ethical dilemma of taking what doesn't belong to you. Many use metal detectors on the beaches, where you can find lost earrings, chains, bracelets, and other valuables scattered among holidaymakers.
In theory, a well-bred child should return such a find to the owner. Or should it not? Well, it's up to you. The main thing is that this should not come as a surprise to you when someone sees your child's thing and accuses him of theft.
If all these horror stories have not yet turned you away from buying a children's metal detector, perhaps you are the parent of a real treasure hunter.
As mentioned above, it is not necessary to immediately spend money on an expensive adult device. Show the child the essence of the process, and at the same time and explain the physical principles of the metal detector, it is possible on the available children's models, which are described below.
How to Choose a Metal Detector for Your Kid?
One of the important aspects when choosing a chil's metal detector is simple and intuitive control. Choose minimal buttons and a clear menu.
Choose a detector without polyphony. A few tones will be quite enough. Also, such a detector should not have complex settings.
Naturally, it must be light and durable – keep in mind that it will be difficult for a child with an "adult" metal detector. Pick up an easier model.
In addition, pay attention to the instructions for the device. It must be such that the child understands it himself, it would be more interesting for him, and the extra questions will disappear when used.
Perhaps the most important selection criterion is how well the detector distinguishes the metal, i.e. how well the child will distinguish the useful signals from the metal scrap.
For children from 8 to 18, it is very important to find interesting things such as coins, jewelry, metal-plastic and so on, otherwise, their interest in instrument search will fade away very soon (bury something interesting if you want to). Indeed, who would be interested in digging nails, beer caps, and other garbage all day?
A good discriminator, a pair of audio tones, and a clear notation on the screen will be quite enough because in our case the device should not be too informative so that the child does not get confused in the signals and complex settings.
Is metal detecting a good hobby for a child?
Does your child like to spend time outdoors? Does she enjoy the thrill of exploring and discovering new and interesting things? Does she have the heart of a treasure hunter?
Metal detecting is exactly what your child needs. He will be very pleased, and you will be content, knowing that you have found him a fascinating and useful occupation during the summer holidays.
The advantage of buying a child's detector is that he will have his own device and he will stop asking for your more expensive equipment.
Children who have joined the instrument search become interested in the history of their native land, general history, archeology, and, importantly, they are more often in the fresh air, which is very useful for a growing organism.
How to Encourage a Child to start Metal Detecting Hobby?
When dealing with the child's hobby, it is crucial to make him imagine. Try to convince your kids with the next words: "Is there a more mysterious and exciting occupation in the world than treasure hunting? So chests of gold and diamonds buried by pirates on a coral island are seen, flooded galleons, tombs filled with countless treasures.
In fact, the situation is not so romantic, but still quite tempting. Searchers find pots with silver and coins, gold figures, masonry with icons. Those who chose to search for treasure as their hobby are bogged down for life." "Such a hobby can be a good source of income.
Labor fortune is a very capricious thing, is not given to everyone. Real diggers adventures do not stop, because the main thing here is the excitement of the researcher, seeker, collector. Consider the search as an active vacation, and then the smallest find will be a joy."
Watch this guide on how to start metal detecting:
Where To Go Metal Detecting With Kids?
Cards with a red cross in the place of the treasure placement exist only in books, so you have to seek out your prime search spots yourself. Download a map of the area that interests you.
There are differences in heights, small streams and rivers, which are now dry. Then you should download the plans of the old provinces, maps of general divisions, satellite images of the same region.
All this is compared with a modern map of the area. Disappeared settlements are the main goal of the digger. All of these would be a great adventure for your kid.
Will These Detectors Work in Water?
The control unit of the junior metal detector is made as simple and clear as possible; it has two controllers: on and sensitivity adjustment.
Everything you should do is just to turn it on, adjust the sensitivity, and you can go in search of the treasure.
The 6-inch coil installed on the device is very compact and maneuverable, which allows working with it not only in fields and forests but also in coastal areas and in shallow water.
With this device, your child will feel like a real treasure hunter.
What Will The Detectors Be Able To Find?
A great story comes to mind: "We had no metal detectors in our childhood, so we had to dig quite decent holes to find something. This time it turned out much faster.
The son walked with the metal detector along the path, along which the whole city goes to the station. And after a couple of meaningless finds, we stumbled upon a rotted box with cartridges.
At a depth of only three or four centimeters. Hundreds of people walked thousands of times along this path, along with these cartridges." "And the powder in them was dry, by the way. We burned it right away. This is probably a bad example to follow.
On the other hand, my son now knows how the cartridges are arranged, and that they should not be pounded or thrown into the fire.
Now I know that even children's metal detectors can be called mine detectors, and once again, we do not encourage treasure hunting in potentially dangerous places.
IF you are interested in learning more about suitable metal detectors for your child, contact the Base Outdoor, and we'll set you on the path to your next big searching adventure!
Metal Detector for Kids - 7.4 Inch Waterproof Kid Metal Detectors Gold Detector Lightweight Search Coil (24"-35") Adjustable Metal Detector for Junior & Youth with High Accuracy
Widely Use :Perfect for finding metal objects and anywhere that hidden metal.(Iron nail, iron covering, aluminum ring, small aluminum product, coins, gold, bronze, silver)etc.can be used in science education
Design Features: Light weight,easy operation,comfortable handling ,ergonomic design,high sensitivity,comes with adjustable lightweight bracket.This metal detector is suitable for Adults/Kids.
DETECTION INDICATION:audio alert and lcd display indicate the detection of metal(6.10inch detector diameter,10-100cm detection depth),once metal is detected there's beep sound and lcd screen light to remind you.
Widely Use :Perfect for finding metal objects and anywhere that hidden metal.(Iron nail, iron covering, aluminum ring, small aluminum product, coins, gold, bronze, silver)etc.can be used in science education
Safe & Lovely Children Design: Palli Partners always put safety as a priority. Our Kids Metal Detector is made by harmless ABS material, totally no risk to your kids, parents ompletely at ease. Moreover, the lovely profile is designed both by professional industrial designer and kids visual designer. It perfectly fits children's aesthetic. Trust me, the metal detector for kids will get along well with your kids.