Gold has always attracted people. In nature, it lies in the form of sand or small nuggets. On rare occasions, you'll find it in large nuggets.
The most advanced device for finding such deposits is a metal detector for finding gold.
Top Pick
Good Pick
Don't Miss
Fisher Labs Gold Bug Pro Metal Detector, Black (GOLDBUG-PRO)
Garrett 1140680 AT Gold Metal Detector
Minelab Gold Monster 1000 Gold Detector for Adults with Waterproof Coil
These devices are in many ways different from ground detectors because they are designed to effectively search for gold and neutralize specific soils and accompanying precious metals.
These devices have completely different parameters than devices meant for coins or other metals. Internal settings and custom specifications neutralize the effect of the soil and metal identification algorithms. We'll evaluate the top five detectors for hunting gold.
Top Best Metal Detector for Gold
1. Fisher Gold Bug Pro Metal Detector
Fisher Labs, without changing its philosophy, continues to delight with innovations in the field of digital gold metal detectors. Once again, we have the pleasure of seeing not just a professional device for searching native gold at fairly great depths, but a universal metal detector suitable for searching antiquities, military artifacts, and even imperial coins.
The Fisher Gold Bug clocked at 19 kHz and weighs only 1,25 kg! Looking at the fact that the metal detector is designed to search in hard-to-reach places, its weight will please the searcher.
Without changing traditions, Fisher Lab has made the use of Gold Bug simple and easy to understand, even for newcomers to this business.
The uniqueness of the Fisher Gold Bug metal detector lies in its incorporation of a sequential discrimination pattern, which is the most appropriate and correct when searching for native gold. In sequential discrimination, objects are excluded from the search sequentially one after the other, starting with the lowest-conducting metals.
The Gold Bug boasts inherent soil balancing, which can be implemented either manually or automatically. Detuning the detector from the ground is fundamental when you start a search.
Using a new sound indication system makes it possible to distinguish low-conducting metals from higher ones by ear. The higher the index, the higher the response tone!
2. Garrett 1140680 AT Gold Metal Detector
AT Gold is a new gold metal detector for sale by Garrett and designed to search for native gold and non-ferrous metal products. It has an extremely high sensitivity to small targets.
The working frequency is increased to 18 kHz, and the diameter of the coil is reduced. Such indicators aim the device at gold nuggets, jewelry, and small coins.
The device is a descendant of the AT Pro and has the same diversity of search conditions. You can work in the rain, in the coastal zone, underwater, in conditions of high pollution and dust.
Features:
The "All Metals" mode offers maximum search depth and high sensitivity to shallow targets.
The graphic analyzer of a target with 20 segments (simultaneous display of the selected discriminator and conductivity of the detected target)
Cross-country vehicle – the device is designed to work in a wet, damp, and dusty environment. Moisture protection provides immersion in water up to 3 m (underwater headphones are optional)
Digital display of target ID (from 0 to 99)
Configure iron discrimination with high accuracy in 40 steps. Allows the most accurate way to adjust the cut point of the iron targets
Adjustable sound threshold
Professional sound modes Pro mode Audio: proportional response and the mode of the swinging sound
Iron sound – allows the user to hear sound from discriminated iron objects at will
The sound of iron in the mode of all metals provides a separate sound to iron even in the mode of "All Metals."
Manual soil balancing provides the ability to fine-tune the device to the mineralization of the soil to reduce false positives.
The soil balance window is an exclusive feature that allows you to expand the balanced setting and reduce the response from minor changes in soil mineralization
Auto Balance function Fast Track
Targeting function
The depth indicator displays the depth of objects identical in size to the coin
Battery Status Indicator
Search modes: 3 modes + Targeting
Includes new coil 5 × 8 "(14 × 20 cm) DD PROformance
3 keys for different types of metal
8 steps of sensitivity adjustment
3. Minelab GOLD MONSTER 1000
Minelab Gold Monster 1000 is a high-frequency gold detector adapted to search in highly mineralized soil. Due to the high frequency—45 kHz—the sensitivity to small nuggets (0.2-0.3 grams) is very high.
This device is considered by many to be the best among the gold-searching devices. It was created as the most adaptive system with several different configurations.
The Gold Monster 1000 is fully automatic. Therefore, you do not have to adjust the soil balance and threshold tone constantly. You will be able to devote more time to the search itself, rather than to the settings.
Features:
Metal detector to search for gold
Fully automatic search mode
Super sensitivity
VLF technology
Adaptability to any search conditions, or to any operator
The manufacturer gives 2 coils at once
Guaranteed quick start, turned on and you're already digging
4. Whites Goldmaster GMT Metal Detector – 800-0294
Compared to its predecessors, the Whites Goldmaster GMT's sensitivity to small nuggets has greatly improved. This is attributed to the introduction of a multi-turn threshold regulator.
The Goldmaster GMT contains simplified and improved ground clearance, which has become more accurate and is performed in 1/1000 increments using the two buttons ("+" and "-") on the front panel.
The arrow indicator and buttons are carried out on the handle, and the gold detector machine boasts an accurate detection mode. The Whites GMT metal detector has an adjustable auto-threshold speed and a sensitivity range switch.
A special phase compensation scheme allows you to adjust the sensitivity without re-tuning from the ground. Using the switch in the handle, you can quickly move from a search for all metals to a search with the exception of iron.
Features:
Operating frequency: 50 kHz
Modes of operation: dynamic search of all metals, dynamic search with the ability to recognize iron
2 buttons ("+" and "-") ground detuning
Coil – 25 cm (ellipse)
Power – a set of 8 AA batteries for 50 hours of Whites GMT continuous operation
Weight – 1.6 kg
Management bodies:

sensitivity control
operating frequency regulator
threshold control
speed control auto-tuning threshold
sensitivity switch
mode switch

accurate detection button
5. Tesoro Lobo SuperTRAQ Metal Detector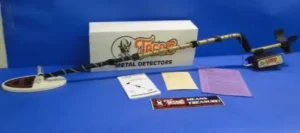 This device is an excellent long-range gold detector. It is extremely versatile and has three different automatic ground detuning modes, thanks to which the metal detector can be used in a wide variety of conditions.
Is it important to search for coins? Still would!
You can change coils, the range of which is quite wide, from concentric to wide scan coils giving you a great search range.
With the Tesoro Lobo SuperTRAQ you have an excellent depth of detection, accurate pinpointing, and this famous Tesoro signal, indicating that there is a coin in front of you.
Features:
Lightweight, body mountable design
Tesoro SuperTRAQ Computerized ground tracking system
All metal, discriminate, and no motion modes
Three ground tracking modes, Normal, Alkali, and Black Sand
Smooth operation in extreme mineralization
Adjustable threshold control
Max boost sensitivity
Extremely sensitive, deep searching circuitry
Lifetime Warranty
Comprehensive User's Manual
10″ Elliptical Wide scan Coil
8 AA Batteries
What is a Gold Detector?
The search for gold using metal detectors has been carried out for more than a quarter of a century. The continuous improvement of technical characteristics helps to find gold nuggets even for non-professional users.
Such metal detectors for gold examine the terrain and identify precious metal, and sometimes its entire deposits. Gold miners are often found with these devices combing New York beaches, often in the evening as the beaches clear.
Peak gold mining falls in the autumn season, especially when the weather is rife with storms and hurricanes. Here, in the sands of Brighton Beach, you can find lost earrings and rings, even with diamonds, because there are ladies who rest there.
Neighboring beaches, where mostly young people are frolicking, can boast less expensive finds. In the seventies, an entire league of gold-seekers was organized on New York beaches.
How does gold-finding technology work?
Absolutely all models of metal detectors that search for gold are professional devices created and tuned specifically to search for this precious metal.
The frequency of detection helps to identify even the smallest gold particles if it is contained in the surveyed area, whatever the environment. Therefore, they help to detect small particles of gold, which, together with the ground, go to the dump after a fishing dredge.
To pinpoint a shallow target at great depth is not a problem for them. Such gold miners are successfully used in the search for lost gold objects and jewelry on the beaches and in the water.
In their mechanism and design, there is a powerful processor which uses a combination of exclusive technologies. High technical characteristics help them to remove the noise present in inhomogeneous soil, which drowns out rather weak signals from gold deposits, helping to identify the noble metal even in mineralized soil.
Gold-seeking metal detectors contain fewer functions and discrimination settings which determines their different target designation. Different models have different depths of search, and although they all differ in extreme sensitivity to small objects, they are able to detect them at different depths.
How To Choose A Metal Detector for Gold?
Depending on the technical and functional characteristics, the cost of these devices varies. For example, it will be more expensive to buy a gold digger that can detect a nugget the size of a match head, at a depth of one meter.
Gold metal detectors that are more modest in scope are also presented at lower prices. And even among professional metal detectors, you can buy a gold miner from the budget series.
A lower price means it cannot boast of either the breadth of possibilities or the particular convenience of operation, as its settings and bundling will be limited.
Here every treasure seeker chooses himself. Experts do not advise beginners to purchase high-priced equipment. If you do not have basic experience in treasure hunting, you can simply not cope with an expensive multi-functional model. For such users, low-cost metal detectors for gold search are more advantageous.
If you're interested in finding coins or other metals you should use regular detectors. We have prepared the best metal detector on the market for you.
Frequently Asked Questions
Search for gold with a standard metal detector might be fascinating, but it's a fruitless occupation. The metal detector reacts not only to the noble metal but also to other products that are made of metal alloys but are not considered valuable.
Search rules
The search for a precious metal with a metal detector takes some time, but before starting work you need to:
Determine the territory to search
Examine documents from archives
Explore the terrain features
The territory to be searched should be clearly defined. The treasure hunter can go to the beach or dump, wherever the precious metal was mined before.
If we are talking about the beach, it is better to choose the one that is older. To determine the presence of gold in other places, you must read the documents from the archive.
As a rule, documents from the archive are studied by geologists.
They determine the peculiarity of the area and the possibility of being on the territory of the noble metal. Before starting the search, you should communicate with the local population – it can tell a lot of interesting information, tell about whether nuggets were found in this area or not.
Gold detection by a metal detector can take a lot of time if the device is not properly programmed and customized. Some detectors react to a metal that does not have a noble origin. If recycling tons of garbage is not included in the plans, then you can buy a better tool, but note you'll be paying a price.
Where to begin?
If a person is puzzled by the search for jewels, not nuggets, then you can start with a study of the beach. Finding jewelry in the sand is not difficult. The population is massively losing rings and earrings, sunbathing by the pond.
Having identified the beach, you can go digging. Gold miners are advised to take a friend or girlfriend with you, as you know, newcomers are lucky.
If the work with the help of a gold metal detector is aimed at finding gold in the bowels of the earth, then it is necessary to determine the territory.
Study the features of the area and the presence of precious metals in a separate region. Gold is rarely located deep underground, in order to find it you do not have to dig half a field or dig a mine.
The metal may be located on dumps or in close proximity to the core. For a successful search, it is recommended to travel to places where mining was previously conducted on an industrial scale.
Finding a nugget is good luck, but more often trash is caught in the path of seekers. This should be prepared.
The advantages of this search method:
Does not require the purchase of expensive equipment
You can go digging on your own
The work does not require preparation
The seekers of precious metals can sign an agreement with an enterprise that is engaged in the search or mining of gold. In addition, working with a metal detector does not require special training, training does not have to be approached.
The disadvantages of finding gold in this way include:
Garbage that can be found in the process
Low chances of success
The first thing that a searcher faces is a series of failures. You can find a coin, a bottle cap, or wire, but not gold. This is easily explained, because nuggets are rarely found in nature, to find larger amounts of gold using a metal detector is uncommon.
Working with a gold metal detector involves focus and perseverance. When going to the field for the first time, it is difficult to find a kilogram of precious metal. You can usually find a chain or ring. Using a metal detector, you can find precious metal not only in the bowels of the earth but on the beaches.
Some people successfully use the device for detecting a hoard of coins. If we are talking about the search for nuggets, then detecting them requires a technique that will feel the gold in the thickness of the rocks.
If we are talking about finding jewelry on the beach, then such a device is useless. It is worth noting that the beach search is considered the most promising in terms of finds.
Know your device and its capabilities before engaging in a search. Gold diggers pursue a very specialized search, and their efforts are informed and executed differently than other metal detector searches. To learn more about gold hunting and other searches, drop us a line. We're here to help!
Sale
DR.ÖTEK Metal Detector for Adults Professional, Gold Metal Detector, Pinpoint & Exclusive Memory Mode, Higher Accuracy, IP68 Waterproof Coil, Bigger Backlit LCD Display, New Advanced DSP Chip, Black
TOP METAL DETECTOR FOR ADULTS. This adults metal detector kit is an exciting new addition for both professionals and enthusiasts. Offers 5 upgraded modes including Pinpoint Mode, All Metal, Discrimination, Memory, and Jewelry. Innovative Memory Mode allows you to only detect one metal type that you want. Locate exactly what you want in far less time.
LARGE METAL DETECTOR LCD DISPLAY has a big clear 3" x 2.2" screen that is easy to read. Backlight lets you work in the dark for a great deal more flexibility. 3 display modes to easily identify the type of metals you are detecting. Displays digital image and sound with multiple settings for customization.
9.8" WIDE SEARCH COIL is so powerful it can locate a quarter coin up to 10" underground. This waterproof metal detector can find larger objects at even greater depths. The coil is IP68 waterproof and works well in shallow water.
ADJUSTABLE STEM & SENSITIVITY. 42.7" to 53.5" adjustable length suits adults of different heights and is also suitable for kids. With 5-level sensitivity, you can adjust the sensitivity to counteract some interference factors and find the target faster. Spend far less time detecting while finding more exciting precious metals and antique artifacts.
PERFECT GIFT WITH ACCESSORIES. You can get more than an outdoor metal detector and including a premium headset, a heavy-duty digger shovel and a multipurpose carrying bag. Save your extra time for purchase. Not only an excellent choice for travel, vacations, camping trips, and outings but also a great birthday gift, holiday present, anniversary gift or give for Father's Day and Mother's Day.
Sale
PANCKY Metal Detectors for Adults Waterproof - Professional Higher Accuracy Gold Detector with LCD Display, 5 Mode, Advanced DSP Chip 10" Coil Metal Detectors - PK0075
【Top Metal Detector For Beginners】PANCKY adult metal detector has 5 different modes to bring endless fun to your adventure. 🚩All METAL MODE , 🚩DISC MODE , 🚩MEMORY MODE , 🚩JEWELRY MODE, 🚩PINPOINTER. We are equipped with a complete set of accessories, Start your treasure hunting journey and pursue hidden wealth!
【Upgraded DSP Chip】The second-generation DSP chip metal detector developed by PANCKY providing higher 25% detection speed, sensitivity, and accuracy than other detectors on the market. The stable reception of detection signals can help you find treasures in the shortest possible time. PANCKY can accurately locate maximum depth of up to 10 inches a quarter coin underground. Its professional-level performance can satisfy your ever-growing thirst for exploration and help you find your true "gold".
【Intuitive Large LCD Display 】User-friendly interface specifically developed and designed for beginners. The backlight function enables easy treasure hunting in low light or nighttime conditions. The silicone buttons, designed for easy operation, provide satisfying tactile feedback and sensitivity, offering greater flexibility. It's convenient for you to get the type of metal target, depth, recognition, sensitivity level, operating mode, which let you detecting more efficient
【10inch IP68 Waterproof Search Coil】10 inches waterproof search coil equipped with built-in copper wire distribution technology allows for easy penetration of water layers and enables large-scale, sensitive detection even underwater, ensuring that metal enthusiasts can unravel the mysteries of treasures even in shallow water areas. The metal detector can be easily cleaned and stored. (Note: The control box is not waterproof.)
【Height Adjustable & Ergonomics Design】 47.3" to 55.2" adjustable length suits for adults of different height and is also suitable for kids. 2.4lbs lightweight, adjustable armrest and an anti-slip handle that equips your hunting experience with comfort.
RM RICOMAX Metal Detectors for Adults - Professional Gold Detector for Treasure Hunt, IP68 Waterproof 10" Search Coil, Higher Accuracy with Stong Modes, Adjustable LCD Display with Headphones
💰Convenient to Use - RM RICOMAX metal detector weighs only 2.31 pounds, is really lighter than others. The ergonomic handle design makes it perfect for all-day use, and the adjustable height(41.3" to 47.6") makes it suitable for both adults&child. INTUITIVE LCD DISPLAY makes you can see the detection mode, sensitivity level, battery condition, and volume level conveniently, and you can also light up the screen if you want to detect metal in the darkness.
💰4 Strong Detection Modes - RM RICOMAX metal detector can detect metals including iron, aluminum, gold, bronze, silver and their articles in ALL METAL Mode. The DISC & NOTCH Modes make you can ignore unwanted metal improving the detection efficiency, then you can pinpoints the location of target accurately in P/P Mode.
💰IP68 Waterproof & Big Search Coil - The underwater metal detector is an IP68 waterproof unit with a 10" big search coil, and the shaft that the coil is connected to is made of aluminum. The Advanced DSP Chip makes it more accurate than others and you can detect up to 10" depth, which means you could take it to a river or the beach to explore the hidden treasure underwater.
💰Advanced Chip & 10" Detection Depth - This metal detector now uses the most advanced chip in 2022. Compared with last year's version, we have enhanced the automatic balance technology of the coil, which can detect underground depths up to 10". Whatever you're a beginner or advanced metal detectorist, GC-1037 metal detector will be an unmissable choice in this summer.
❤❤ No Risk Investment & Full Accessories - Not only you can get 1×Metal Detector, but also have 1×Carrying Bag, 1× Shovel (more durable & strong than other shovels). It has a headset jack that can be used with conventional headsets, two batteries are included. All our metal detectors were manufactured under strict quality standards and 100% checked before shipment. We offer LIFETIME call center support, any questions please contact us, and for sure we will find the right solution for you.
Professional Metal Detector for Adults, High Sensitivity Gold Detector with Waterproof Coil, Gold Finder with LCD Display, Pinpoint 5 Modes, Gifts for Men 10" Coil
Intuitive LCD Display: The detection mode, sensitivity/volume level and battery condition are all clearly visible on the LCD display, which features seven intuitive icons to make it easy to differentiate between iron, gold, copper and silver.
High Accuracy & Large Waterproof Coil: Equipped with a 10" IP68 waterproof search coil, this metal detector can detect objects up to a maximum depth of 9", making it highly efficient and time-saving. Whether you're searching on the beach, in a stream, or in a wooded area, this metal detector is the perfect tool.
Strong Anti-Interference: With its ground balance adjustment function (default ON), the metal detector can automatically adjust to different environments to reduce false alarms.
Five Modes of Operation: The metal detector offers five different modes, including All Metal Mode, Disc/Notch Mode, Pinpoint Mode, and Memory Mode, which allows you to quickly restore your previous detection settings when you restart the device.
The package includes one metal detector, two 9V batteries, a shovel, and a headset, so you have everything you need to start treasure hunting right away.
Sale
SAKOBS Metal Detector for Adults Waterproof - Professional Higher Accuracy Gold Detector with LCD Display, DISC & Notch & All Metal Mode, Advanced DSP Chip 10" Coil Metal Detectors
💰💰10 inch High Accuracy & IP68 Waterproof Search Coil - Metal Detector Kit with 10" Expanded Search Coil is so powerful it can detect a quarter coin up to a depth of 10". IP68 waterproof technology enables you to start treasure hunter on beach, shallow water, underwater, shallow salt water and land (Note: the control box is not waterproof)
💰💰Best Intermediate Metal Detector for Adults - Sakobs waterproof metal detector is designed for beginner and enthusiasts. Three modes of operation (🚩All METAL MODE, 🚩DISC MODE, 🚩NORTH MODE) are provided to identify Six Types of Metals, allowing you to easily operate our silver detectors
💰💰Larger LCD Display - Our Outdoor Ring Metal Detector has a large clear screen, let you easily get the type, depth, identification, sensitivity level, low battery indicator and operating mode of the metal target even at night or in low light areas.
💰💰Adjustable Stem & Perfect Gift - Lightweight metal detector for gold is equipped with 41.3 inch to 47.6 inch adjustable retractable stem, suitable for both adults and children. Not only a great choice for vacations, camping trips, but also a great birthday gift, holiday gift, anniversary gift or gift for Father's Day and Mother's Day。
💰💰Worth-own Complete Accessories Package and Strong Service: You will get a Top handheld Metal Detector, a portable carry bag, a great toughness and high abrasion resistance shovel,user manual, worry-free 36-month warranty and our strong customer service.
Sale
Kuman Pin pointer Water Resistant Metal Detectors with Holster Treasure Hunting Unearthing Tool Accessories Buzzer Vibration Automatic Tuning KW30
360° side-scan and Pinpoint tip detection. Please kindly note that this is kuman brand, the only store name is kumanshop, the other is unauthorized product. Our pinpointer metal detector kit include the waterproof case, it is freely for you to use underwater.
High Sensitivity: High Sensitivity for improved detection of small targets, it can work indoors, outdoors, on sand, lawn or in soil, locate coin, silver, jewelry and gold with speed and accuracy. Three sensitivity levels with different LED indicators light, audio and vibrate alert.
Ratio audio and vibration indicators.
Size:215.5*41.5*43.52mm
One- One-touch operation:Quick button press instantly tunes out environment or narrows detection field for precise pinpointing of larger targets
PalliPartners Metal Detector for Adults, Waterproof - Professional Higher Accuracy Gold Detector with Pinpoint & Disc &, Advanced DSP Chip 10" Coil Metal Detectors-A1037
HIGH ACCURACY & WATERPROOF SEARCH COIL: The diameter of this metal detector's search coil is 10 inches. As you know, the bigger the search coil is, the higher the sensitivity, let you detecting more efficient and time-saving. Waterproof search coil enables you to use detecting to underwater, perfect for outdoor, like beach, stream, backyard. (Note: the control box is not waterproof)
THREE STRONG MODES & TRUE DISCRIMINATION MODE - metal detector has three operation models: ① All Metal Mode - the metal detector notifies you whenever it sees any metal. ② Disc Mode - you can utilize this metal detector to discriminate against other types of metal for a specific one. ③ Notch mode –press "NOTCH", then press "+"or "-" button to select the target to be notched(eliminated). And you can simply eliminate the metal you don't want through Discrimination Mode & Notch mode.
FULL ACCESSORIES & YOU WORTH TO OWN IT: not only you can get 1×Metal Detector but also have 1×Carrying Bag, 1× Shovel(more durable & strong than other shovels), it has a headset jack that can be used with conventional headsets, two batteries are included. Whatever you're a beginner or advanced metal detectorist, PalliPartners metal detector is always suitable for you. If you have any questions about metal detector or metal detecting technicality, please feel free to contact us.
ADJUSTABLE & HUMANITY DESIGN – metal detector from 41.3 inch to 47.6 inch adjustable stem, suitable for both adults and kids. Save more effort with arm rest design, makes you more comfortable and less stressful. Let's start your treasure hunting with this lovely PalliPartners metal detector.
INTUITIVE LCD DISPLAY & DEEPER DETECTION - it is obviously more accurate and convenient that you can see the detection mode, sensitivity level, battery condition, and volume level. Even in the night time or dark light area. You can get information intuitively from the LCD screen and it can detect metals up to 8.7 inch depth.