To buy a professional metal detector is to step up your search game and increase your chances of finding unique treasures. Professional metal detectors are devices designed for searches at a serious and advanced level.
Best Choice
Second Best
Also Consider
Don't Miss
ATX Extreme Garrett Pulse Induction Metal Detector with 11x13 DD Closed searchcoil
Minelab GPZ 7000 Gold Nugget Metal Detector
Nokta Makro Simplex+ WHP Waterproof Detector with 11" Coil & Wireless Headphones, and Pinpointer
Garrett AT MAX Waterproof Metal Detector, MS-3 Wireless Headphones and Pro-Pointer AT Z-Lynk Pinpointer
They are equipped with numerous functions including manual and automatic settings such as LCD display. Often controlled by touch buttons, the operation is convenient—a perk for the experienced searcher. It is noteworthy that each parameter can be configured based on personal preferences.
Beginners who do not have much experience in the search, buying a professional metal detector can easily understand the many settings, adjustments, and interfaces.
A distinctive feature of professional devices is the presence of wireless headphones, coils, and control panels, connecting via digital radio.
Top Best Professional Metal Detectors
1. ATX Extreme Garrett Pulse Induction Metal Detector – With Closed search coil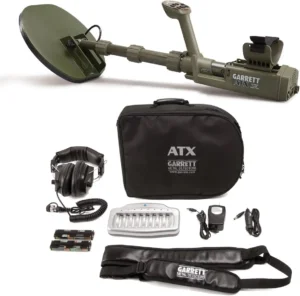 Maximum Detection on all targets at the same time. No need to switch modes to…
LED Indicators: show signal strength and current settings. Waterproof Speaker:…
Frequency Scan: auto function for minimizing RFI interference. Volume Control:…
Advanced Ground Balance: has wide range to ground balance from heavily…
Motion and Non-Motion Modes: provides optimum performance based on your hunting…
Garrett ATX is a top contender among professional-grade underwater metal detectors. This professional metal detector is designed for soil, beach, and underwater search.
The maximum depth of immersion is 3 meters. The device can operate at maximum sensitivity and depth regardless of the salinity of the soil or sand. This trouble-free soldier will help you find gold nuggets, coins, and jewels in the most difficult conditions.
The Garrett ATX identified a coin of the 1794 year at a depth of 37 centimeters, and the marginal depth was 130 cm. In standard delivery, you will see a 10×12 inch coil of an unusual construct, with a connecting cable placed inside the telescopic rod.
The powerful fastening ears of the coil to the rod instill confidence in the structural strength.
The new state-of-the-art 20-inch coil design contributes to better compatibility and performance. from the new pulse technology work.
The new pulse technology performs a more confident and reliable search for small targets without reducing the speed of wiring and improved detuning from the ground. The Garrett ATX delivers a complete set of deep search options and sports a hard, military-style case for MD.
Features:
Discriminator – customizable, 25 fixed positions
Threshold audio tunable also on 25 fixed installations
13 gradations of the sensitivity of MD
Soil balance adjustment range is from iron saturated to salty soil.
2. Minelab GPZ 7000 Gold Nugget Metal Detector
The Minelab GPZ 7000 proves one of the best professional metal detectors on the market. This quality metal detector contains a wireless connection, color screen, and GPS. It's equipped with a GPZ 13×14 SuperD coil.
The new revolutionary ZVT technology allows you to find gold at a depth unattainable with other metal detectors.
The performance of the GPZ 7000 metal detector exceeds models such as the SDC 2300, GPX 5000 in the next parameters. With the help of integrated GPS navigation and the XChange 2 PC application, you can now map your gold finds.
Using the Map screen, you can move to a specific location, review your GeoTrail, and save WayPoints (points of interest) "] FindPoints (gold finds).
You can also record the depth and weight of gold finds in the field. No need to carry around a separate GPS and laptop. Everything can be stored as a GeoHunt in a metal detector. When you return home, you can upload your data and display it on Google maps.
Its high sensitivity with a Super-D coil gives the maximum advantage in the field. With this device, you can find nuggets that weigh less than a gram. The GPZ 7000 detects less atmospheric noise, has 256 noise reduction channels, which ensures a smooth and quiet search.
Features:
Integrated GPS positioning "] PC mapping
Extreme gold depth; 40% deeper than GPX models
Maximum gold sensitivity
Precise ground balancing
Increased noise immunity
Simple system menu
Wireless audio
Waterproof coil with dive depth of 1 m
3. Makro JeoTech Deep Seeking Metal Detector Pro Package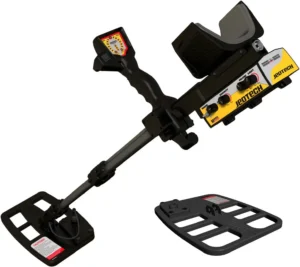 Jeotech, created using unsurpassed Macro technology, is the first sample of new-generation professional-grade metal detectors. This detector provides a convenient perception of targets at depth and has a powerful ability to perceive both depth and soil.
One of the distinguishing features that separate it from other detectors is the provision of convenient work in the soil with high mineral content and the ability to detect targets even under stones that contain ore.
Jeotech is able to search at a much greater depth compared to other similar systems when searching for coins. It searches metals with excellent accuracy and detects voids under the ground, such as caves, crypts, and tunnels.
On the left side of the Jeotech, which has an LED alarm system, are LEDs that inform the user about the voids under the ground, and on the right are LEDs that report metals. In addition, the system reports the target with sound signals.
Informing the user about precious metals—gold, silver, copper, and bronze—the system distinguishes steel from precious metals. Jeotech, which provides a very practical use due to its lightness, reports detected metals and voids to the user using LED sound and light signals.
With its excellent ability to detect metals and voids, as well as an economical price, Jeotech will be the favorite of users in any field. It's the most popular detector of this year.
Jeotech is designed for use in highmineral content soils on the saltwater coast, on the coast and in the sand.
Thanks to a special filtration system, Jeotech searches without reacting to the effects of all parasites and noise. It allows practical, prompt and accurate detection of the target when searching on walls, slopes, surfaces, and at depth.
Features:
Operating System: VLF (Very Low Frequency)
Metal Discrimination – Non-Ferrous / Ferrous / Steel + Cavity
Election of Ferrous – No
Comfort Joystick Grip Design
Easy to Understand LED Display
Advanced Micro-Processor Technology
4. White's Spectra V3i HP Metal Detector
Whites Spectra V3i is a professional metal detector which embodies the latest technology in the field of instrument search. The most distinctive features of the V3i include a color display, multilingual function, three operating frequencies, and the presence of BlueTooth and USB.
The Whites Spectra V3 is equipped with a liquid crystal display with high image quality and is considered the first among all existing models today.
VDI numbers are quite large and perfectly visible even from a distance; therefore, visual discrimination is very convenient here.
Features:
Three-frequency search pattern
Simultaneous synograph determines findings
Enlarge image feature to display findings
Wireless headphones and stereo sound quality recognize the sound and identify the category of metal
5. Garrett AT MAX Waterproof Metal Detector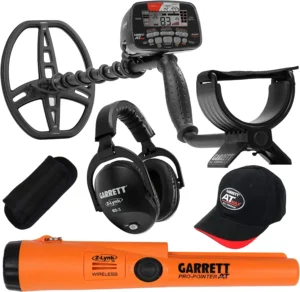 The new Garrett AT MAX metal detector refers to multifunctional search units that can operate in various environments—as an earth detector, land searches, and underwater searches. It has a dive depth of three meters.
The Garrett AT MAX is intended for experienced users and meets all modern requirements of treasure hunting.
The metal detector has improved the discrimination system, the ground balance setting, and the threshold tone option, as well as the wireless communication via the built-in Z-Link sound transmitter.
The Garrett AT MAX detector is ideal for any search conditions, from open areas, to  cramped conditions, and also in places with high humidity.
Features:
Operating frequency – 13.6 kHz (medium) + frequency shift function
Soil balance – auto and manual
Four operating modes
Discrimination – graphic scale + VDI number
Ground balance window function
Iron sound function (Iron Audio)
Three-tone, dynamic sound response
Volume control
Screen Backlight
Customizable threshold tone
Pro-Pointer AT Z-Lynk Pinpointer:
Fully waterproof when submerged to 6 meters
Bright orange case for visibility underwater
Maximum sensitivity for detecting nuggets and other small targets
Three sensitivity levels
Single-click configuration
Easy-to-find device locator.
Auto power off for audible warning after 60 minutes
One-button control for power, reconfiguration, sensitivity level (3 levels), and silent mode (only vibration)
Ruler in inches and centimeters on the body of the device for convenient depth measurement
New power button, convenient to control even with gloves
If you liked these products but are still unsure which one to pick, we suggest you take a look at the best metal detectors on the market.
Professional Gamma FAQ
1. How does a professional metal detector differ from basic metal detecting devices?
Among the variety of search equipment, professional metal detectors differ favorably to include the self-classification of finds and displaying information on the screen. They're equipped with all modern functions and devices.
The cost of the detector depends on the equipment quality and functions it performs. Only an experienced owner is able to evaluate and fully use the most advanced features included with professional equipment.
Automatic tuning to the type of soil sets apart basic equipment from professional-grade devices. The device is able to determine search deeper and more accurately. The elimination of electrical interference allows pro searchers to work in areas of impact without interruption from other metal detectors or power lines.
The more working frequencies a device has, the more advanced and precise it is. While simple models can work only on one or two, professional-grade multi-frequency metal detectors simultaneously cut targets of different sizes, identifying each one at the same time.
Coils of such devices also differ in frequency range. The expensive models of the search unit are equipped with multi-tone polyphony, which allows identifying the type of the found object as accurately as possible, whereas less expensive detectors utilize no more than three tones.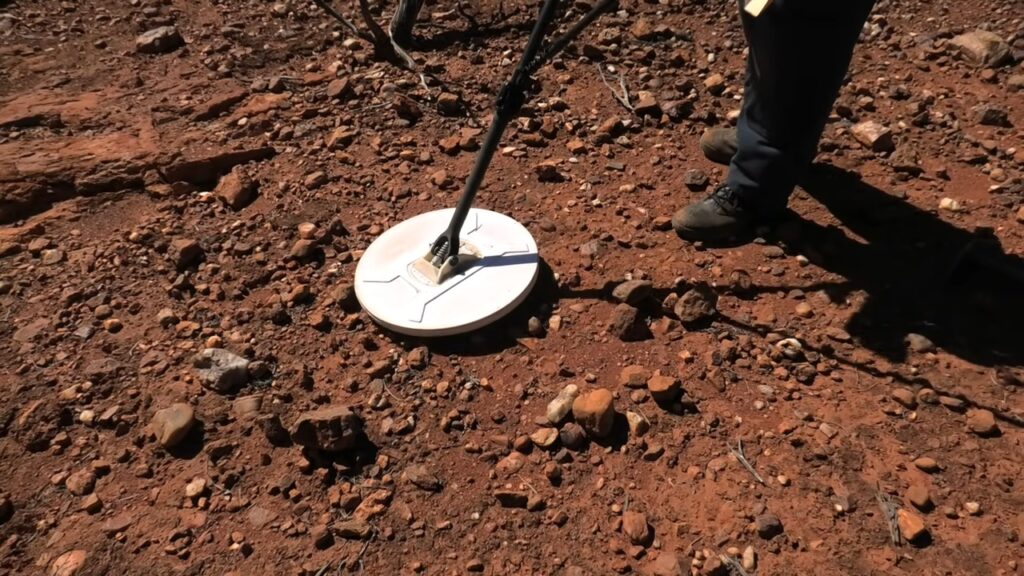 Many professionals are attracted by the PinPointer function, which saves users time and effort. Owners of lesser models are deprived of this opportunity or use manual PinPointer in addition.
One of the most important differences between professional-level metal detectors and basic models is the number of settings. Inexpensive models are equipped with several standard search programs (for example, for jewelry, coins, relics, etc.).
Advanced devices often boast extensive customizable and pre-programmed settings for the owner including double identification of targets, a graphic image and VDI numbers, determination of the size of a find, a larger screen for outputting a large amount of information, and button controls.
In professional metal detectors depth detection is approximately twice as powerful as in entry-level instruments. Owners of cheaper models can upgrade this feature by purchasing additional search coils.
The most important factor shaping the price of a metal detector is the quality of discrimination.
A professional device will not miss a target and will accurately identify it even if there is unnecessary metal objects nearby. Many conventional detectors cannot cope with littered search areas.
Some devices of a professional level are equipped with the possibility of identification by the metal inductance, which greatly increases the chances of correctly determining the type of find and eliminates the need to once again dig in an unnecessary place.
In any case, to use a metal detector at a professional level, you need knowledge and experience. Beginner treasure seekers should start with basic, less expensive detectors. After several search seasons, you'll outgrow your device and be ready for the upgrade to the more advanced, more expensive device.
2. Should You Buy a Professional Metal Detector?
When looking at your equipment options, consider whether your new hobby is a passing fancy or a serious commitment to honing your search skills. Have you caught the treasure searching bug, or is this a passing fancy?
Choose wisely and start simple until you're sure you've committed to the craft.
Shop smart and within your budget, and always keep in mind how serious the hobby has become for you.
If you buy a cheap metal detector, the searcher's chances of finding items of real value is limited. If you find yourself quickly disappointed by the abundance of iron debris found as a novice, consider that disappointment an indicator that you're not as committed to searching as you'd hoped.
Conversely, those who throw lots of money at the newest technology but have no experience are bound to find a few great treasures but become overwhelmed with their device.
Find a happy medium, the golden mean. Purchase a metal detector within your means and put in the necessary study time to development your skills. You'll begin to wield your device with prowess and soon find interesting targets while eliminating many of the trash finds that frustrated you at the beginning.
A mid-level instrument and the right mindset can develop your expertise, and once you've made it to expert level you can upgrade to a professional device.
3. Can You earn money with metal detecting?
A hike with a metal detector is a fairly simple and effective way to find useful items, including antique money, mobile phones, watches, etc. You will not need to do your research to acquire the proper permits and plan for making this an income-making hobby.
Purchase suitable equipment, preferably certified and with a guarantee, and then go to places where there may be buried objects of value. You'll need to determine what type of jewelry you are going to look for, and also to choose the most favorable area for this.
4. How much can you earn with metal detecting?
Your earnings will depend on how often you explore for valuable items and how well you choose your search area. In addition, you must be able to handle the metal detector properly.
People who have long been engaged in the search for valuables with the help of a metal detector also pay attention to military paraphernalia, antiques, etc., which makes it possible to find high-valuable items.
In addition to these skills, for earnings, you will definitely need to create a website on the Internet or a group on a social network to advertise your finds for sale.
5. How much money is needed to start a business?
In order to start earning with the help of a metal detector, it is enough to buy the device itself and an engineer blade for digging holes.
If your search becomes a money maker, it is better to take more expensive and high-quality devices, which are able to work in water and detect objects at great depths.
Whether you've made metal detecting a hobby or a profession, know your brand, hone your skills, and have fun!  To learn more about top brands, search techniques, and other important metal searching information, contact the Base Outdoor Team.
DR.ÖTEK Metal Detector for Adults Professional, Gold Metal Detector, Pinpoint & Exclusive Memory Mode, Higher Accuracy, IP68 Waterproof Coil, Bigger Backlit LCD Display, New Advanced DSP Chip, Black
TOP METAL DETECTOR FOR ADULTS. This adults metal detector kit is an exciting new addition for both professionals and enthusiasts. Offers 5 upgraded modes including Pinpoint Mode, All Metal, Discrimination, Memory, and Jewelry. Innovative Memory Mode allows you to only detect one metal type that you want. Locate exactly what you want in far less time.
LARGE METAL DETECTOR LCD DISPLAY has a big clear 3" x 2.2" screen that is easy to read. Backlight lets you work in the dark for a great deal more flexibility. 3 display modes to easily identify the type of metals you are detecting. Displays digital image and sound with multiple settings for customization.
9.8" WIDE SEARCH COIL is so powerful it can locate a quarter coin up to 10" underground. This waterproof metal detector can find larger objects at even greater depths. The coil is IP68 waterproof and works well in shallow water.
ADJUSTABLE STEM & SENSITIVITY. 42.7" to 53.5" adjustable length suits adults of different heights and is also suitable for kids. With 5-level sensitivity, you can adjust the sensitivity to counteract some interference factors and find the target faster. Spend far less time detecting while finding more exciting precious metals and antique artifacts.
PERFECT GIFT WITH ACCESSORIES. You can get more than an outdoor metal detector and including a premium headset, a heavy-duty digger shovel and a multipurpose carrying bag. Save your extra time for purchase. Not only an excellent choice for travel, vacations, camping trips, and outings but also a great birthday gift, holiday present, anniversary gift or give for Father's Day and Mother's Day.
Metal Detector Gold for Adults Waterproof - Professional 11" Coil Metal Finder Pinpoint Notch - Underwater Metal Detecting for Juniors
【Upgraded DSP Chip & Deeper Detection】This professional metal detector equipped with the Upgraded DSP Chip that can enhances the accuracy and sensitivity, expands the search range and depth, and you can find metales up to 10" underground.
【5 Multifunctional Detecting Modes】This SUFFLA adults metal detector has 5 useful detecting modes: All METAL MODE, DISC&NOTCH MODE, PINPOINT MODE, MEMORY MODE, SENS MODES. With powerful functions, you can choose the metal objects you want and find them quickly and accurately.
【11" Waterproof High Accuracy Search Coil】 This waterproof metal detector search coil is larger than other 10" search coils, which can let you find the metals underground and underwater accurately. Perfect for beach, shallow water, stream and riverside. ( Note: the control box is not waterproof)
【Intuitive LCD Display with Light】This gold detector has 3'' x 2" screen allow you to read the type of sens, disc, notch and all metals easily, and the adjustable backlight in dark situation will be helpful greatly, which help you find the metals even at night.
【Adjustable Stem & Humanity Design】This lightweight metal detector weighs only 2.87 pounds, equipped with 41" to 52" adjustable stem that suitable for both adults and kids. The non-slip handle design allows you to use it for a long time without feeling tired.
Sale
SUNPOW Foldable Metal Detector for Adults, Professional Waterproof Adjustable High Accuracy Folding Metal Detectors with LCD Display,DSP Chip, 11" Coil, 5 Mode,Lightweight Collapsible for Easy Travel
【Foldable Design Without Assemble】Sunpow metal detector for adults adopts a collapsible design, which can be unfolded with just one press of the locking button, no assembly required. Press and fold again to store the foldable metal detector in the included storage bag for easier use. Lightweight and portable for travel. Just press open to hunt for treasure!
【Higher Depth and Accuracy】 Adult Metal Detector with upgraded DSP chip, 8 levels of depth and sensitivity adjustable, can detect small coins and metal objects up to 10 inches deep. Professional metal detector have improved search range and sensitivity, allowing you to detect more efficiently and save time.
【5 Powerful Modes】The metal detector has 5 different modes: ① ALL METAL---The metal detector will notify you when it finds any metal. ② DISC---You can eliminate the metal types you don't need in sequence. ③NOTCH---6 kinds of metals can be freely selected whether or not to be removed. ④PINPOINT---Choose different positioning intensities according to your environment, accurately locate the metal position by the beep sound.⑤MEMORY---Machine automatically records your settings until it shuts down.
【Intuitive Backlit LCD Display】Simple operation buttons and a large 3" x 2.1" backlit LCD display, it is easy to understand. It is convenient for you to get the metal target type, depth, recognition, sensitivity level, battery condition and volume level. Let you know the detection dynamics at any time and improve your detection efficiency. The metal detectors has a backlight switch button, you can freely choose to turn on and off the backlight when detecting at night, which is more power-saving.
【11" Large Waterproof Search Coil】11 Inch Large Search Coil detects larger range faster.The IP68 waterproof metal detector allows you to use in shallow water detection, suitable for you and your kids to go outdoor treasure hunting, such as beaches, streams and yards. The perfect beach metal detector for detector lovers. The 33.46" to 51.18" adjustable rod is suitable for adults or children of different heights. (Note: the control box is not waterproof)
Sale
Metal Detector for Adults, Professional High Accuracy Waterproof Gold Detector with LCD Display, 10" Coil Adjustable Metal Detector for Treasure Hunting, 5 Modes, Advanced DSP Chip
Top Metal Detectors: Offers 5 upgraded modes including 💖All metal, 💖Discrimination, 💖Notch Mode, 💖Pinpoint Mode, and 💖Three Tone Audios. The innovative Memory function remembers one kind of metal and only detects that specific type for next time. Allow you to effectively search for the desired 9 metal targets. This adults kids metal detector is an exciting new addition for both professionals and enthusiasts.
10'' IP68 Waterproof Search Coil: The Huntermax metal detectors for adults kids feature a 10 inches search coil, so you can scan larger areas faster. IP68 waterproof metal detector enables you to work well underwater, perfect for beach, river, rain and etc, which means that you can find treasures hidden from the eyes of the majority. (Note: the control box is not waterproof)
Upgraded DSP Chip: Equipped with an Upgraded DSP chip, made in the USA, which has higher accuracy, strong anti-interference, higher sensitivity, and a wider search range, greatly improving detection efficiency over other metal detectors. This metal detector may locate a US Quarter up to 10" underground. The greater the detection depth, the higher the sensitivity, allowing you to detect more efficiently and time-saving.
Intuitive LCD Display: Exclusively displaying a backlit screen allows you to get the detection dynamics right away. It's convenient for you to get the type of metal target, depth, sensitivity level, operating mode, and battery indication, which let you detect more efficiently and is time-saving.
Perfect Gift with Accessories: The handhold metal detector comes with two 9V batteries, headphones, a premium collapsible shovel, and a carrying bag. Everything you would need early in the game. Not only an excellent choice for travel, vacations, camping trips, and outings but also a great birthday gift, holiday present, anniversary gift or give for Father's Day and Mother's Day.
Sale
PANCKY Metal Detectors for Adults Waterproof - Professional Higher Accuracy Gold Detector with LCD Display, 5 Mode, Advanced DSP Chip 10" Coil Metal Detectors - PK0075
【Top Metal Detector For Beginners】PANCKY adult metal detector has 5 different modes to bring endless fun to your adventure. 🚩All METAL MODE , 🚩DISC MODE , 🚩MEMORY MODE , 🚩JEWELRY MODE, 🚩PINPOINTER. We are equipped with a complete set of accessories, Start your treasure hunting journey and pursue hidden wealth!
【Upgraded DSP Chip】The second-generation DSP chip metal detector developed by PANCKY providing higher 25% detection speed, sensitivity, and accuracy than other detectors on the market. The stable reception of detection signals can help you find treasures in the shortest possible time. PANCKY can accurately locate maximum depth of up to 10 inches a quarter coin underground. Its professional-level performance can satisfy your ever-growing thirst for exploration and help you find your true "gold".
【Intuitive Large LCD Display 】User-friendly interface specifically developed and designed for beginners. The backlight function enables easy treasure hunting in low light or nighttime conditions. The silicone buttons, designed for easy operation, provide satisfying tactile feedback and sensitivity, offering greater flexibility. It's convenient for you to get the type of metal target, depth, recognition, sensitivity level, operating mode, which let you detecting more efficient
【10inch IP68 Waterproof Search Coil】10 inches waterproof search coil equipped with built-in copper wire distribution technology allows for easy penetration of water layers and enables large-scale, sensitive detection even underwater, ensuring that metal enthusiasts can unravel the mysteries of treasures even in shallow water areas. The metal detector can be easily cleaned and stored. (Note: The control box is not waterproof.)
【Height Adjustable & Ergonomics Design】 47.3" to 55.2" adjustable length suits for adults of different height and is also suitable for kids. 2.4lbs lightweight, adjustable armrest and an anti-slip handle that equips your hunting experience with comfort.
Sale
SUNPOW Metal Detector for Adults, Professional Waterproof High Accuracy Metal Detector, 10'' Detection Depth, Pinpoint & Disc & Notch & All Metal & Volume Modes, Strong Anti-Interference-GC-1083
【10" Deeper Detection Depth】Our professional metal detector is upgraded with a DSP chip, which has higher sensitivity. In all metal mode, it can detect a depth of 10 inches, which is 2 inches deeper than other metal detectors.
【Higher Accuracy】This metal detector for adults uses the latest integrated circuits to improve the efficiency of the chip algorithm, and will not cause the target to be lost because of your detection rate is too fast. It has a very strong anti-interference so that it can be more precise and more efficient in the detection process.
【5 Strong Detection Modes】The metal detectors have 5 different metal detection modes. It will be a good helper for you to find coins and treasures. ①All metal mode: 7 kinds of targets can be detected. ②DISC mode: 5 targets can be eliminated in sequence: bottle cap, foil, 5¢, pull tab, 1¢. ③Notch mode: freely discriminate against the 4 categories of foil, 5¢, pull tab, and 1¢, ignoring garbage and unwanted objects. ④Pinpoint mode: It can locate the target more accurately. ⑤ Volume mode.
【Adjustable Metal Detector】36.2" to 47.2" height adjustable valve stem is suitable for children and adults. You can enjoy detecting joy with your child at home, or pack it up for easy travel to any of your favorite treasure-hunting spots.
【IP68 Waterproof Search Coil】The 10-inch large search coil guarantees your detection efficiency. IP68 waterproof technology enables you to perform shallow water detection. (Note: The control box is not waterproof ) This SUNPOW saltwater waterproof metal detector is very suitable for outdoor activities, such as seaside, beach, stream, etc.
Minelab Vanquish 540 Multi-Frequency Pinpointing Metal Detector for Adults with Iron Bias & V12 12"x9" Double-D Waterproof Coil (4 Detect Modes, Wired Headphones & Rain Cover Included)
SIMULTANEOUS MULTI-FREQUENCY. The Vanquish 540 combines the power of multiple detectors into 1. Equipped with our revolutionary Multi-IQ technology, it automatically employs 5 frequencies at once so you can search all metals, all soils, all the time.
TURN ON & GO. No need to choose frequencies or ground balance. This detector auto-selects the best settings depending on your soil so you can simply switch on the easy-to-use, water-resistant interface (with backlight for low light) and start detecting.
4 MODES. Select from Park for high-trash areas, Field for coins and artifacts or Beach modes—each with unique separation and depth abilities (Coin, Jewelry, Relic, Custom)—to focus on target or ground types. Turn on Pinpoint Mode for precise location.
LIGHTWEIGHT & COLLAPSIBLE. The Vanquish 540 weighs only 2.8 lbs (1.3 kg) and packs down to a mere 30 inches (76 cm) with a unique collapsible snap-lock system so you can throw it in your backpack and go.
AUDIO CONTROL. Automatic noise canceling, lag-free audio response and 10-volume settings put you in complete control of your search, while Iron Bias control allows you to find treasure hiding amongst trash. Wired 1/8" headphones (3.5 mm) included.
Metal Detector, Professional High Accuracy Metal Detector for Adults & Kids, Adjustable Beach Waterproof Gold Detector with Pinpoint & Sensitive Search Coil, with Multiple Audio Prompts &DISC Modes
【Ease of Use】Its large LCD display makes this metal detector so simple and intuitive to use with clearly labeled buttons and indicators that a complete novice can use to locate cool treasures like gold, coins, jewelry and more straight out of the box. With the advanced technology and powerful searching features, this professional metal detector is a perfect gift for both beginner and advanced hobbies in treasure hunting.
【Unparalleled Detecting Performance】 Equipped with a 10 inch large waterproof search coil, this GC-1020 metal detector provides the best sensitivity in its class, which can detect metals up to 9.8 inches beneath the surface. It is capable of detecting a wider range of metal, from coins and relics to precious metals like silver and gold. Its rugged design makes it perfect for hunting on all terrains, including backyards, local parks, deserts, beaches or shallow waters.
【Advanced feature-packed】The GC-1020 metal detector comes with 4 detection modes, 12 levels of sensitivity, 3 audio tones and depth indication, which can maximize both the efficiency and accuracy of your treasure hunting, making this hobby a more rewarding experience.
【Ultra Lightweight & Ergonomic Design】The metal detector weighs just 2.2 pounds, and it's adjustable between 39 inches to 53 inches, which makes it fit perfectly for both children and adults.The S shaped handle with padded armrest and cushioned hand grip gives you the best comfortability for longer enjoyment of treasure hunting.
【100% Satisfaction Guarantee】We are so confident about our product quality that all of our metal detectors come with a 2-year factory warranty and lifetime technical support. If your experience is anything less than extraordinary, please let us know. Our US based customer service team will take care of you just like their own family members.