Tesoro Electronics Inc. is an American company, founded in true American dream fashion—out of a garage. The company, which has grown to the size of an industrial giant in the metal detector market, was originally a family business.
Its founder, Jack Gifford, was an experienced engineer who had worked at various metal detector companies for twenty years. His career began at Bounty Hunter, and prior to that, he managed to work as an electronics engineer in the aircraft industry, as well as at Motorola.
Joining a metal detector company in 1975, Jack began treasure hunting as a hobby. His hobby turned into a passion and soon determined his future.
Working for one of the era's market leaders in metal detectors, Jack decided to create his own company. Together with a colleague, they founded the company C"]G technology. Although the company released several successful models, it did not last long, and Jack was offered a vacancy at Fisher Labs.
In 1980, Jack took his experiences at top manufacturers and created Tesoro Electronics Inc. Jack had the necessary information, connections, and ideas to create a competitive company and was soon a contributor to the world of metal detector manufacturing.
He understood the direction the metal detector industry was headed, and each metal detector released by Tesoro Electronics Inc. was created with a commitment to quality. He vowed that his technology would not lag behind its competitors in terms of performance. He pushed for lightweight, reliable, and versatile equipment designs.
Gifford pared down the nonessentials that increased the cost of devices and, since 1981, mandated lifetime manufacturer warranties for all of his metal detectors. This was a revolution in the world of metal detectors.
Year after year, the company improved designs and developed new features for its Tesoro detectors. Some Tesoro metal detectors have become legendary. Now we can say with confidence that the Tesoro metal detectors are the lightest among devices with similar functionality.
Top Best Tesoro Metal Detectors
1. Tesoro Compadre Metal Detector
Tesoro Compadre brings devices of its kind to an entirely new level. While, at first glance, it may seem the device is incredibly user-friendly, its complex components and quality performance make it an industry leader.
Tesoro Compadre is the best choice for all adventure seekers. You will be pleasantly surprised by its versatility and functionality. Its progressive technology surpasses that of its competitors.
The Compadre is completely insensitive to distraction and excess objects. Electric transmission lines do not affect its productivity. Tesoro Compadre metal detector is an entry-level, analog metal detector.
Those who happened to experience this "peanut" in practice sincerely marveled at its capabilities.
2. ACE 400 Pro-Pointer II Special
The metal detector will please with its stable operation, which distinguishes it from many budget models.
The advantage of Compadre is its ability to avoid false alarms when the coil hits the grass or shrub trunks. Neither wet grass nor work under power lines affect its performance.
Pros
Digital target ID
Deep searching capabilities
Cons
Complicated manual for all the mentioned features
3. Tesoro Mojave Metal Detector
The main feature of Tesoro Mojave is the switching of a pre-set soil balance (2 values, normal and high). The detector is targeted at US diggers.
With the Ground Condition Switch in LOW mode, the metal detector maintains maximum depth. High mode is designed for searching on difficult soils.
The new discrimination scheme is colored with three colors representing each category of purpose. Discrimination covers the entire range, starting from no discrimination (ALL METALS), and ending with zinc metal.
For example, iron and foil are a white zone. Coins of 5 cents (nickel, USA), as well as aluminum and gold are the yellow zone. The red includes silver and other metals with high conductivity.
The Tesoro Mojave has a new 7-inch reel. Round, coil type Mono.
Pros
Greater search depths
Large coil
4. Tesoro Sand Shark with an 8″ Search Coil Metal Detector
The metal detector is an interesting find. Its rod is golden, three-section, with good, convenient, reliable mounts. The coil also fastens firmly and does not loosen as the spring easily attaches and disconnects. When you need to conduct an underwater search, the middle section of the boom is easily removed.
The control unit can also be moved around the bar for convenience. It can be moved closer to the armrest itself or attached to the arm or waist belt. 2 meters of cable is sufficient for any configuration. Obviously, the design is calculated and ergonomic.
Tesoro Sand Shark is equipped with a standard 8-inch round reel with a hole in the center. An optional elliptical coil of 10.5 inches for greater depth and coverage, and 7 inches for smaller targets.
Exceptional winding qualities provide the device with high sensitivity. It is noticeable that it is better to catch the strongest signal with the center of the coil. This makes it easier to locate the target.
The control unit has a bracket mounted on the top. There are four buttons on the sides of the bracket, and it is easy to separate the control unit from the housing. The walls of the case are very durable, and the unit itself is waterproof.
With the Tesoro Sand Shark , you can dive to depths of up to 60 meters. The unit comes with waterproof wired headphones, the connectors of which are reinforced with special tightening couplings. Inside the control unit is a battery compartment, which houses 8 AA batteries. You can access the battery compartment by removing the front panel.
According to the Tesoro Sand Shark review, pulse, induction metal detectors are easy to use. Sand Shark has four knobs to operate its most important functions including Mode and VCO.
If you are planning on doing beach searches, the Tesoro Sand Shark is the best Tesoro metal detector. Believe us. This shark will not miss its treasure!
Pros
Indicates all targets on the field
Easy to use
Cons
Takes time to find out what all the beep sounds are about
5. Tesoro Silver uMax Metal Detector
The Tesoro Silver uMax has simple controls making it the ideal device for novices and new searches diving into the world of searching antiquities.
The search for artifacts has never been so accessible, and control operation is user-friendly for the beginner. Whether it's a search for medieval rarities, a fascinating pursuit of treasures, or exploring the places of great battles, the Tesoro Silver uMax metal detector will prove itself in search.
A large coil allows you to effectively explore vast areas in the shortest possible time, without spending a single extra minute on settings and adjustments.
The Tesoro Silver uMax metal detector is highly appreciated by archaeologists exploring ancient settlements because, in the search mode for all metals, this metal detector provides the treasure hunter with a detailed overview of objects located on the deepest layers.
You can easily explore in both the discrimination mode and the search mode, for all metals, work in conditions of continuous movement of the device head (dynamic mode).
A fixed adjustment to the ground allows you to search at significant depths. By adjusting the sensitivity with an extra range, the Tesoro Silver uMax metal detector shows outstanding results in finding valuable artifacts at very great depths.
The undoubted advantages of this metal detector include its low weight, only one kilogram. With such light, comfortable equipment, the treasure hunter is not fatigued and can easily conduct long searches!
Pros
Includes backlight for better visibility
Adjustable frequency
6. Tesoro Lobo SuperTRAQ Metal Detector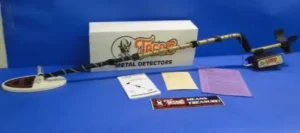 The metal detector was developed by Tesoro engineers specifically for treasure hunters to search for native gold, as well as to search for gold jewelry.
Tesoro has introduced such schemes, which significantly improve both the sensitivity and the quality of the detuning from the ground. This detector is perfect to look for gold nuggets and old expensive artifacts.
Tesoro Lobo SuperTRAQ for metal searching has three modes of detuning from the ground—detuning from alkaline soils, detuning from black sand, and detuning from salty soils. When you use these modes, the search performance of small gold items does not fall. Engineers accounted for the possibility of mounting a metal detector both on the rod and on the belt.
On the panel, we see only five controls—discrimination, ground tuning, sensitivity on / off, mode switch, and threshold control.
Each hunter personalizes the search parameters for current conditions and his work style.
Pros
Indicates all targets on the field
Easy to use
Cons
Takes time to find out what all the beep sounds are about
Buying Guide
Where Can I Buy a Tesoro Metal Detector?
Although Tesoro brand isn't as popular as the industry frontrunners like Garrett, you can find current models for sale on Amazon and with dealers who sell the Tesoro brand. Dealers will provide guides and reviews to help in your buying decision.
Where Can I Repair a Tesoro Metal Detector?
If your warranty still covers the device, you should turn to official service centers for help. As a rule, their warranty period lasts for 5 years.
We recommend you first troubleshoot all issues before contacting the service center. First charge your device and note any visual damage. The service center will run diagnostics to determine any additional concerns.
Where Can I Buy Parts for Tesoro Metal Detector?
Tesoro Corporation has developed with the times and has always responded to customer requests. It continues to expand its line to include accessories and adaptations to its current metal detector models.
Today, Tesoro offers more than 200 components for their devices. It produces headphones, coils, sensors, screws, washers, a battery holder, armrests, and others. These parts have increased strength, reliability of small structures, convenience, and are a necessary attribute of each metal detector.
All of these items you can purchase in our online store or on Amazon, as well as in offline stores near you.
Tesoro vs Garrett
The Garrett Ace 250 and Tesoro Compadre are great devices for people who have just started working with metal detectors. Which one you should purchase depends entirely on your location, goals, and preferences. Each of them has its own strengths and weaknesses.
Since, personally, we are primarily small gold jewelry hunters, the Tesoro Compadre wins in our book for its sensitivity to small items. To search for coins and more general items, the Ace 250 will better suit.
Tesoro Pros and Cons
Pros
Easy to use
Extremely lightweight
Good sensitivity to small objects
Excellent separation of debris from standing objects
Good iron discrimination mode
Cheaper than Ace 250
Cons
9-volt batteries are more expensive
Fixed coil (without a connector)
Cannot ignore coins
Subpar depth control
No sensitivity control
Garrett Pros and Cons
Pros
AA batteries (they are cheaper)
Wider area of ​​the site with an increased voice coil
Sensitivity adjustment
Discrimination mode of first-class functions and id allow us to ignore iron, as well as unnecessary items at long range, such as garbage and focus on low conductors where gold jewelry is located and with this mode you can search for coins more deeply
Cons
Annoying audio sounds
Poor ergonomic balance
Weak mounts and less sensitivity to small objects
Tesoro vs Whites
Soil metal detectors, Tesoro Compadre and Whites Coinmaster have a similar set of functions and comparable search capabilities, yet in practice, search results may vary depending on the experience of the treasure hunter, the accuracy of the settings, and the optimal choice of tools for specific search conditions.
The Tesoro Compadre and Whites Coinmaster are both professional detectors and have similar functionality.
They are used for the same search types, namely searching for coins, treasures, relics, and jewelry on the beach or in shallow waters—conditions of high humidity near water bodies. These devices are often used by professional geologists for reconnaissance.
Each device has its own design features, but the size and overall structure are quite similar. Unlike Tesoro Compadre, the Whites Coinmaster metal detector has the ability to hide the cord connecting the coil to the control unit inside the rod, which is very convenient in the field, as the wire does not cling to the branches when scanning.
In addition, Whites engineers have developed a smooth bar height adjustment that can be quickly used directly during the search by pressing the reel with your foot. This is very useful in hilly terrain and in areas overgrown with vegetation when the distance to the ground changes sharply and often.
Tesoro allows you to adjust the height of the bar, but for this, you have to rewind the cord every time.
Tesoro Pros and Cons
Pros
AA batteries (they are cheaper)
Sensitivity adjustment
Whites Pros and Cons
Pros
Excellent separation of debris from standing objects,
Good iron discrimination mode
Cons
Fixed coil (without a connector)
Tesoro vs Bounty Hunter
Let's have a look at Tesoro Lobo and Bounty Hunter Platinum. The control unit of the Tesoro Lobo metal detector, in addition to the main control buttons and the monitor, has a battery compartment.
 Bounty Hunter Platinum uses a rod for expanding the batteries, which expands at the top. In addition, the Bounty Hunter Platinum  requires eight pieces of power to ensure uninterrupted operation, while only four are needed for Tesoro Lobo.
The location of the headphone jack differs in these two devices. With the Tesoro Lobo, it is located on the control unit, while the jack for the Bounty Hunter Platinum is located on the bar.
The armrests of the devices have a different design, and the foam pad on the rod handle of the Tesoro Lobo metal detector is much more convenient, as it has corrugations and stops on both ends, which additionally prevents slipping.
The search coils for the instruments are both 11 inches but different shapes. The Tesoro Lobo is equipped with an elliptical sensor, and Bounty Hunter Platinum has a round coil.
The detection depth of both sensors is approximately the same, but the Tesoro Lobo coil is lighter in weight and better separates closely spaced targets. The Bounty Hunter Platinum has a higher inspection speed and sees a little deeper than its counterpart.
In addition, the Bounty Hunter Platinum package has special protection for the coil, which protects the sensor from scratches and chips, which can affect the quality of the scan and the appearance of phantom signals in the event of moisture entering the damaged parts of the coil.
Tesoro Pros and Cons
Pros
Equipped with an elliptical sensor
Lighter weight coil separates closely spaced targets
Cons
The coil isn't protected from scratches
Bounty Hunter Pros and Cons
Pros
Special coil protection
Higher inspection speed
Sees deeper than its counterpart
Tesoro metal detectors have changed the industry and continue to compete with top brands to produce affordable, technologically advanced equipment. To learn more about Tesoro products and other metal detector brands, contact the Base Outdoor Team.
For more products like a metal detector, you can find the best one on the market in our post!
Check out other metal detector brands that can fulfill your needs:
DR.ÖTEK Metal Detector for Adults Professional, Pinpoint Metal Detector Waterproof Gold and Silver, Higher Accuracy, Bigger LCD Display, Strong Memory Mode, 10" IP68 Coil, New Advanced DSP Chip
TOP METAL DETECTOR FOR ADULTS. This adults metal detector is an exciting new addition for both professionals and enthusiasts. Offers 5 upgraded modes including Pinpoint Mode, All metal, Discrimination, Memory, and Jewelry. Innovative Memory Mode allows you to only detect one metal type that you want. Locate exactly what you want in far less time.
LARGE LCD DISPLAY has a big clear 3" x 2.2" screen that is easy to read. Backlight lets you work in the dark for a great deal more flexibility. 3 display modes to easily identify the type of metals you are detecting. Displays digital image and sound with multiple settings for customization.
9.8" WIDE SEARCH COIL is so powerful it can locate a quarter coin up to 10" underground. This waterproof metal detector can find larger objects at even greater depths. The coil is IP68 waterproof and works well in shallow water.
ADJUSTABLE STEM & SENSITIVITY. 42.7" to 53.5" adjustable length suits for adults of different height and is also suitable for kids. With 5-level sensitivity, you can adjust the sensitivity to counteract some interference factors and find the target faster. Spend far less time detecting while finding more exciting precious metals and antique artifacts.
PERFECT GIFT WITH ACCESSORIES. You can get more than a metal detector and including a premium headset, a heavy-duty digger shovel and a multipurpose carrying bag. Save your extra time for purchase. Not only an excellent choice for travel, vacations, camping trips, and outings but also a great birthday gift, holiday present, anniversary gift or give for Father's Day and Mother's Day.
Sale
PANCKY Metal Detectors for Adults Waterproof - Professional Higher Accuracy Gold Detector with LCD Display, 5 Mode, Advanced DSP Chip 10" Coil Metal Detectors - PK0075
【5 Modes of Operation】PANCKY adults metal detectors has 5 distinct modes allow you to effectively search for the desired metals. 🚩All METAL MODE , 🚩DISC MODE , 🚩MEMORY MODE , 🚩JEWELRY MODE, 🚩PINPOINTER We are equipped with a full range of accessories and you can start your treasure hunt as soon as you open the package.
【10inch Waterproof Search Coil】PANCKY IP68 waterproof metal detector enables you works well in shallow water. Perfect for beach, stream, and rainy day. which means that you can freely dive with it and find treasures hidden from the eyes of the majority. Metal detectors can be easily cleaned and save. (Note: the control box is not waterproof).
【Upgraded DSP Chip】Upgraded DSP chip metal detector which improves search range and sensitivity, greatly conducive to detecting efficiency. It's so powerful it can locate a quarter coin up to 10" underground. It can find larger objects at even greater depths.
【Intuitive LCD Display 】Large color LCD display allows you to get the detection dynamics at any time. It's convenient for you to get the type of metal target, depth, recognition, sensitivity level, operating mode, which let you detecting more efficient and time-saving.
【Ergonomics Design】 Equipped with 39.37" to 47.24" adjustable stem applicable to different height gold detector enthusiasts. It has got an ergonomic design that involves adjustable armrest and an anti-slip handle that equips your hunting experience with comfort. Besides, we also provide one Backpack, convenient to carry and store the metal detector.
Sale
Bounty Hunter Gold Digger Metal Detector, One size, Grey
The Gold Digger can be used anywhere to search for all kinds of valuable metal from gold coins to iron relics
Motion all-metal mode and trash elimination control help you find only the treasure you want
Identifies coin-size objects up to 6 inches deep underground, and senses larger items up to 2 feet deep
Includes headphones for private searches in crowded places
Certified Frustration-Free Packaging
Minelab Equinox 800 Metal Detector with EQX 11" Double-D Waterproof Coil
MULTI-IQ TECHNOLOGY: Minelab's revolutionary technology combines the power of multiple detectors into one, allowing you to effectively search all metals, all soils, all the time.
FULLY WATERPROOF: Don't stop at the beach or the bank, this fully submersible up to 10 ft. (3m).
4 DETECT MODES: Easily select from Park, Field, Beach or Gold modes to focus on target types or ground conditions.
ACCURATE TARGET ID: Identify your targets quickly and confidently to efficiently sort between trash and treasure.
CUSTOM SEARCH PROFILES: Enjoy 8 custom Search Profiles and save your favorite 2 settings in each mode.
Sale
RM RICOMAX Metal Detectors for Adults - Professional Gold Detector for Treasure Hunt, IP68 Waterproof 10" Search Coil, Higher Accuracy with Stong Modes, Adjustable LCD Display with Headphones
💰Convenient to Use - RM RICOMAX metal detector weighs only 2.31 pounds, is really lighter than others. The ergonomic handle design makes it perfect for all-day use, and the adjustable height(41.3" to 47.6") makes it suitable for both adults&child. INTUITIVE LCD DISPLAY makes you can see the detection mode, sensitivity level, battery condition, and volume level conveniently, and you can also light up the screen if you want to detect metal in the darkness.
💰4 Strong Detection Modes - RM RICOMAX metal detector can detect metals including iron, aluminum, gold, bronze, silver and their articles in ALL METAL Mode. The DISC & NOTCH Modes make you can ignore unwanted metal improving the detection efficiency, then you can pinpoints the location of target accurately in P/P Mode.
💰IP68 Waterproof & Big Search Coil - The underwater metal detector is an IP68 waterproof unit with a 10" big search coil, and the shaft that the coil is connected to is made of aluminum. The Advanced DSP Chip makes it more accurate than others and you can detect up to 10" depth, which means you could take it to a river or the beach to explore the hidden treasure underwater.
💰Advanced Chip & 10" Detection Depth - This metal detector now uses the most advanced chip in 2022. Compared with last year's version, we have enhanced the automatic balance technology of the coil, which can detect underground depths up to 10". Whatever you're a beginner or advanced metal detectorist, GC-1037 metal detector will be an unmissable choice in this summer.
❤❤ No Risk Investment & Full Accessories - Not only you can get 1×Metal Detector, but also have 1×Carrying Bag, 1× Shovel (more durable & strong than other shovels). It has a headset jack that can be used with conventional headsets, two batteries are included. All our metal detectors were manufactured under strict quality standards and 100% checked before shipment. We offer LIFETIME call center support, any questions please contact us, and for sure we will find the right solution for you.
Sale
OMMO Metal Detector for Adults, Waterproof Metal Detectors with High Accuracy Adjustable Pointer Display, Pinpoint & Discrimination & All Metal &Tone Mode, for Detecting Coin, Beach Treasures
🌺🌺POINTER SCREEN DISPLAY & SIMPLE TO USE: New OMMO metal detector with a pointer screen to display, it is more convenient that you can see the detection mode, sensitivity level, and battery condition. When the metal target is found, the meter pointer swings to the right. Rotate the switch counterclockwise to OFF to turn off the unit. Rotate it clockwise away from OFF to turn on the unit. When you rotate the SENS from 0 to 10, the sensitivity is gradually increased
🌺🌺4 MODES OF OPERATIONS: OM-C011 metal detector has four distinct modes that make you can optimize from in detecting metals.①DISCRIMINATION-- Deselect the metal you don't want, In this mode, the unit comes with auto ground balance. ②TONE--- Upgraded OM-C011 can discriminate the metal type by emitting a high or low tone. ③PINPOINT---To pinpoint the target accurately by lowering the sensitivity. ④ALL METAL---To search for all kinds of metal objects
🌺🌺WATERPROOF & ACCURACY: The diameter of OMMO gold metal detector search coil is 10 inches, the bigger the search coil is, the higher the sensitivity, the metal detector kit detects coin-size targets up to 8 inches deep, and larger target up to 4 feet. Let you detecting more efficient and time-saving. Waterproof search coil enables you to use detecting to underwater, Perfect for outdoor, like beach, stream, yard. (Note: the control box is not waterproof)
🌺🌺HUMANITY DESIGN & ADJUSTABLE: Don't worry about the length of the stem, the gold and silver metal detectors from 30 inches to 43-inch adjustable stem, suitable for different height people. With the simple pointer display design, this is an amazing metal detector for adults. The armrest design helps you to save more effort, more comfortable and less stressful. Let's start your treasure hunt with the lovely OMMO metal detector
🌺🌺FULL ACCESSORIES, MEET YOUR NEEDS: You can not only get 1×Metal Detector but also have 1×Carrying Bag, 2×9V Battery, 1× Shovel, 1×Headphone, it has a headset jack that can be used with conventional headsets. if you're a beginner, OMMO Metal Detector is always suitable for you. If you have any problems, please feel free to contact us
Sale
Metal Detector for Adults, Professional High Accuracy Waterproof Gold Detector with LCD Display, 10" Coil Adjustable Metal Detector for Treasure Hunting, 5 Modes, Advanced DSP Chip
Top Metal Detectors: Offers 5 upgraded modes including 💖All metal, 💖Discrimination, 💖Notch Mode, 💖Pinpoint Mode, and 💖Three Tone Audios. The innovative Memory function remembers one kind of metal and only detects that specific type for next time. Allow you to effectively search for the desired 9 metal targets. This adults kids metal detector is an exciting new addition for both professionals and enthusiasts.
10'' IP68 Waterproof Search Coil: The Huntermax metal detectors for adults kids feature a 10 inches search coil, so you can scan larger areas faster. IP68 waterproof metal detector enables you to work well underwater, perfect for beach, river, rain and etc, which means that you can find treasures hidden from the eyes of the majority. (Note: the control box is not waterproof)
Upgraded DSP Chip: Equipped with an Upgraded DSP chip, made in the USA, which has higher accuracy, strong anti-interference, higher sensitivity, and a wider search range, greatly improving detection efficiency over other metal detectors. This metal detector may locate a US Quarter up to 10" underground. The greater the detection depth, the higher the sensitivity, allowing you to detect more efficiently and time-saving.
Intuitive LCD Display: Exclusively displaying a backlit screen allows you to get the detection dynamics right away. It's convenient for you to get the type of metal target, depth, sensitivity level, operating mode, and battery indication, which let you detect more efficiently and is time-saving.
Perfect Gift with Accessories: The handhold metal detector comes with two 9V batteries, headphones, a premium collapsible shovel, and a carrying bag. Everything you would need early in the game. Not only an excellent choice for travel, vacations, camping trips, and outings but also a great birthday gift, holiday present, anniversary gift or give for Father's Day and Mother's Day.
Professional Metal Detector for Adults, High Sensitivity Gold Detector with Waterproof Coil, Gold Finder with LCD Display, Pinpoint 5 Modes, Gifts for Men 10" Coil
Intuitive LCD Display: You can see the detection mode, sensitivity/volume level, battery condition. seven more intuitive icons make it's more convenient to differentiate the Iron, Gold, Copper, Silver
High Accuracy & Big Waterproof Coil: 10" IP68 waterproof search coil, maximum depth of detection up to 9". Efficient and time-saving. Perfect for outdoor, like beach, stream, yard,wooded area
Strong Anti-Interference: The Metal Detectors have ground balance adjustment function(default ON), auto-adjusts on different occasions to reduce some false alarm
5 Modes of Operation: All Metal Mode & Disc/Notch Mode & Pinpoint. Memory Mode - Remember current detection settings, quickly restore to the remembered settings when you restart next time
Using Tips: 1)Avoid highly mineralized soil or places with metal waste when outdoors. 2)Please Do Not test it indoors. Some factors may interfere with detecteing, such as metal embedded in the building(usually has a lot of metal) or large appliances in the house. 3)Ergonomic layout for Long time use
Sale
Metal Detector for Kids - 7.4 Inch Waterproof Kid Metal Detectors Gold Detector Lightweight Search Coil (24"-35") Adjustable Metal Detector for Junior & Youth with High Accuracy
Widely Use :Perfect for finding metal objects and anywhere that hidden metal.(Iron nail, iron covering, aluminum ring, small aluminum product, coins, gold, bronze, silver)etc.can be used in science education
Design Features: Light weight,easy operation,comfortable handling ,ergonomic design,high sensitivity,comes with adjustable lightweight bracket.This metal detector is suitable for Adults/Kids.
DETECTION INDICATION:audio alert and lcd display indicate the detection of metal(6.10inch detector diameter,10-100cm detection depth),once metal is detected there's beep sound and lcd screen light to remind you.
Waterproof Search Coil:Audio alert and LCD display indicate the detection of metal. Waterproof Search Coil - You can use the metal detector in the shallow water with waterproof search coil.The product only needs to use one 9V battery to work. When it stops working for a long time, please remove the battery.
Safe & Lovely Children Design: Palli Partners always put safety as a priority. Our Kids Metal Detector is made by harmless ABS material, totally no risk to your kids, parents ompletely at ease. Moreover, the lovely profile is designed both by professional industrial designer and kids visual designer. It perfectly fits children's aesthetic. Trust me, the metal detector for kids will get along well with your kids.
Sale
Garrett Ace 400 Metal Detector with Waterproof Coil and Headphone Plus Accessories
Extra Accessories: Garrett 8.5" x 11" Search Coil Cover, ClearSound Headphones, Garrett ACE Rain Cover
Also Includes: Garrett 8.5" x 11" PROformance DD Waterproof Search Coil, Adjustable Arm Strap, Garrett ACE 400 Instruction Manual, Garrett Search Coil Hardware Kit, 4 "AA" Batteries Included, FREE Garrett Catalog, FREE Garrett Searcher Magazine, Exclusive 2 Year Warranty
Includes Electronic Pinpointing: precisely locates targets and speeds recovery Notch Discrimination: Modify discrimination patterns based on what you are seeking.
New Adjustable Frequency, New More Stable Camlocks, Enhanced Iron Resolution
2 year Warranty, 5 Search Modes, New Higher Frequency 10 kHz, Digital Target ID