The best metal detector is the one that suits you and your hobby. Before deciding which metal detector to buy, determine what type of metal hunt you intend to conduct and find out as much as you can about your preferred device manufacturer. Shop smart now to warrant your best search experience.
Whites Electronics is a family-owned manufacturing company that produces the best metal detectors for hobbies, security, and industrial needs. Their products are perfect for getting the job done on a budget.
If you're looking for something more robust and versatile, you can never go wrong with the Minelab metal detectors, but for the price, White's medical detectors are your lower-budget quality option.
Using the latest research and technology the company has become a leader in the field of metal detection. American-made Whites metal detectors have delighted customers for almost 70 years.
Top Best Whites Metal Detectors
1. Whites Coinmaster Metal Detector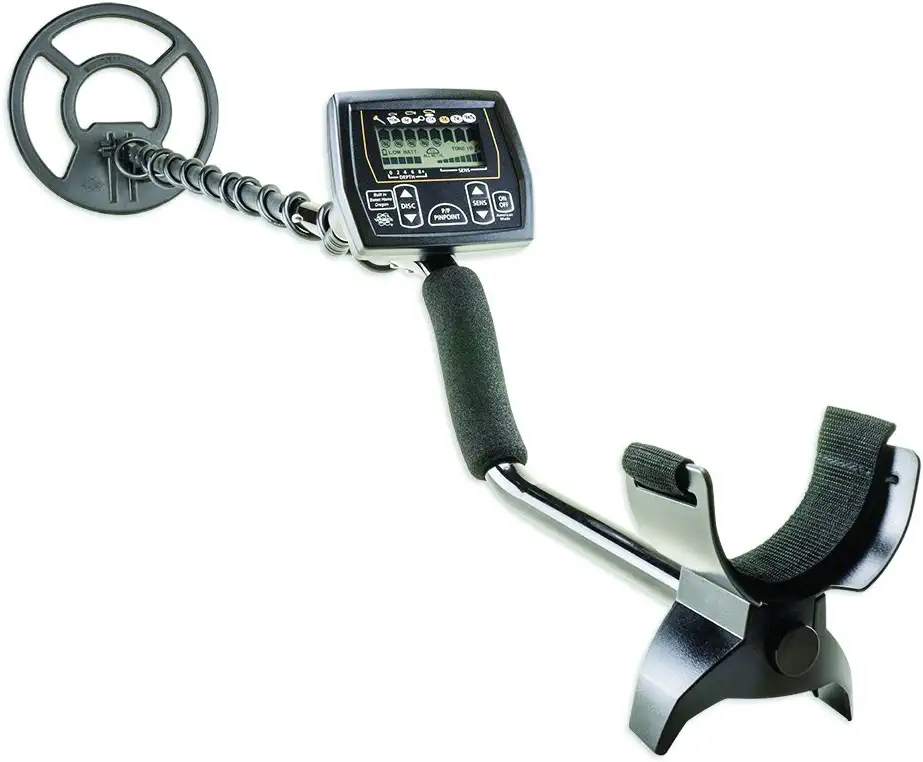 The Coinmaster metal detector is a Whites model which replaced the Prizm in 2010. As a North American market leader, it combines ease of management and a sufficient depth of detection of metal objects.
Whites Coinmaster metal detector is equipped with a convenient display that shows the depth of the object, type of metal, power level, and additional options. Bonus settings include:
SENS – adjustment of sensitivity to metal objects and interference. The greater the value of sensitivity, the deeper you can find a useful object, but the influence of soil and electromagnetic pulses also increases.
P / P – the inclusion of an accurate positioning mode Discrimination does not work in this mode.
DISC – ignores unwanted targets. You can sequentially disable the response from 5 different types of objects. In total, the display shows eight types.
Pros
Easy to use
Automatic ground balancing
Cons
Manual is too complicated
2. Whites Surfmaster DF Water Metal Detector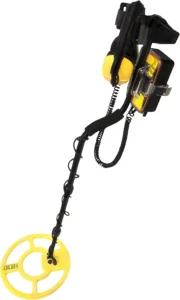 The Whites metal detector was conceived and created as a universal Beachman for working in salt and freshwater. It works on land, in simple and complex soils, and underwater at depths of up to 30 meters.
The White metal detector is built on pulse-pulse technology and is designed to search for coins and jewelry.
In the past, to achieve maximum search depth, pulse-pulse Whites metal detectors had to be moved slowly over the ground. This warranted good results for some purposes, but it sharply reduced the sensitivity of the detector to gold and copper-nickel coins.
In addition, tuning was completely manual and had to be tweaked constantly due to the frequency drift. Most detectors have a proportional signal—a siren that changes the frequency and volume depending on the strength of the signal.
Surfmaster PI Dual Field is different. As a result of 15 years of research into metal detection and the creation of Whites metal detectors, this device provides fast wiring without loss of sensitivity to all targets, excellent stability, and ease of use.
Like conventional VLF plug-and-seek discharge detectors, the Surfmaster PI Dual Field performs at all soil types, including salt sand and complex mineralized soil.
With Surfmaster PI Dual Field, you can move the coil quickly or slowly without loss of sensitivity. It is specially designed and has better sensitivity to gold and copper-nickel alloys than to all other metals.
Pros
Comfortable handling pole
Good search depth
3. Whites SPECTRA VX3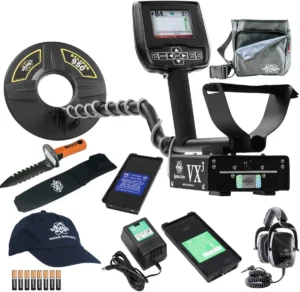 The Spectra VX3 Whites multifunctional metal detector will become a reliable assistant in finding treasures, lost jewelry, or ancient relics. This is the lite version of the Whites Spectra v3.
Like its predecessor, Spectra VX3 operates at three frequencies—22.5 kHz, 7.5 kHz, and 2.5 kHz—and can work at all frequencies simultaneously or individually.
The metal detector has not changed its appearance. It sports the same case and display as its predecessor. The menu has eight built-in search programs that can be changed by the user; the least used programs have been removed from this latest model.
Among the built-in settings, you will find the well-known PinPoint as well as a host of other specifications for the information displayed on display.
The device is equipped with a multi-tone sound indication for notification of target detection and has an external speaker as well as the ability to connect headphones, both wired and wireless.
The device is powered by 8 AA batteries, and operating time on one set of batteries ranges from 8 to 10 hours.
Pros
Two-tone detection range
Adjustable bar length
4. Whites MX Sport Waterproof Detector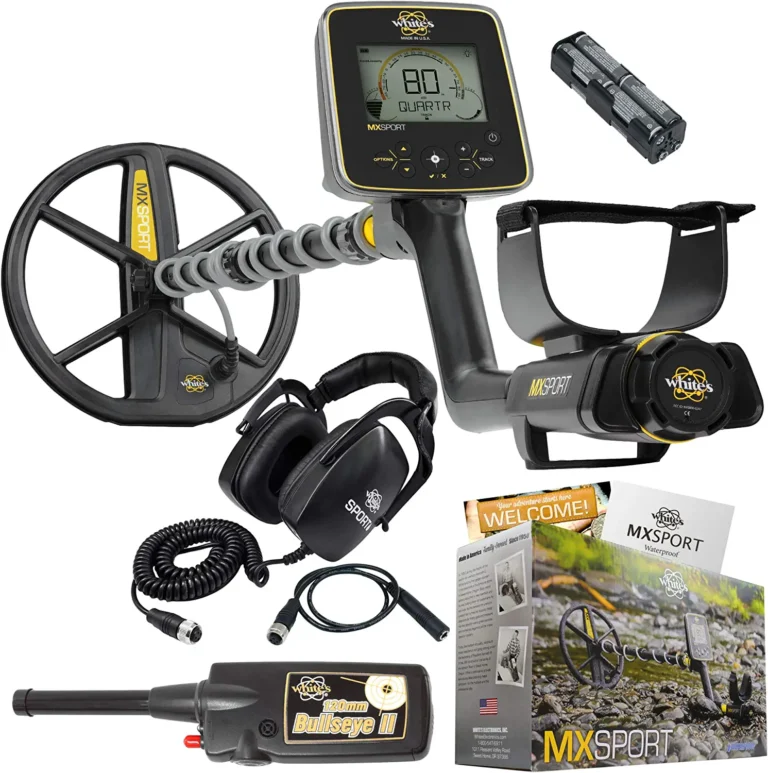 The Whites MX Sport is an underwater metal detector that can work both on land and at a depth of up to 3 meters. It touts a high search frequency, an elliptical DD coil in the kit, and a color display, and despite its small weight of 1.8 kg, the MX Sport should be well balanced due to the location of the batteries in the armrest.
At the right price point, this model is a direct competitor to AT Pro and AT Gold.
If you are planning to acquire an amphibian metal detector from Whites metal detector dealers, it is definitely worth paying attention to the Whites MX Sport as the metal detector is versatile and well-equipped for multiple search functions.
Pros
Easy to use
Automatic ground balancing
5. Whites TRX Bullseye Pin-Pointer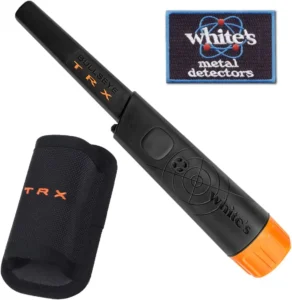 The depth of the Whites TRX is mind-blowing. It features a great body powered only by 2 AA batteries. On one side of the Whites pinpointer, a ruler is applied to the case for measuring the depth of the pit. It's a convenient addition that while not vital, affords an additional function.
Powering the PinPointer with finger batteries is cool. AA batteries intersect with the energy reserve of most modern metal detectors. You do not need to carry along four spare AAs for MD and Krona for a pin. The battery cost savings is significant.
The battery compartment of the Whites TRX inside gives the impression that everything was done under Krona, but don't be fooled. On the battery cartridge, the contacts repeat Krona.
The cover is top-notch. Secure, well-sealed, and orange, it's easily locatable on the search when everything is dusty and dark. The colored beacon focuses your vision. Looking around the place of the newly dug hole, it is easy to look for the smallest items, and you won't risk stepping on its orange casing.
Pros
Waterproof
Comfortable handling pole
Cons
LCD is hard to be seen in a sunny weather
Buying Guide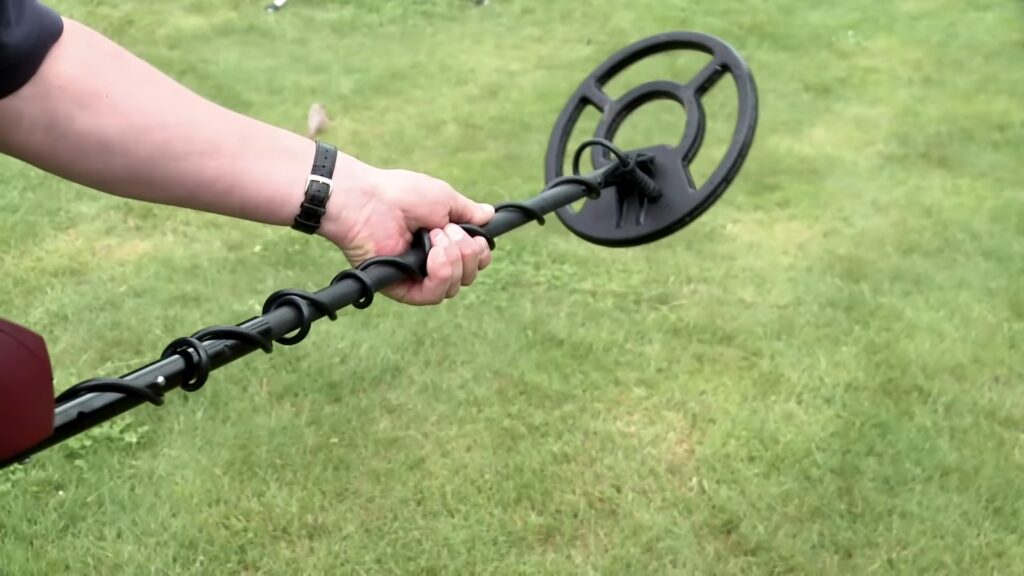 1. Where Can I Buy a Whites Metal Detector?
You can affordably purchase Whites detectors via Whites dealers website or directly from Amazon. In the USA, the goods are dispatched both on a prepayment basis and in cash on delivery.
2. Where Can I Repair a Whites Metal Detector?
Repair of metal detectors and search coils is simple. Contact the Whites service center, and they will quickly and efficiently provide any service to restore your search equipment.
Equipment problems are bound to arise with any model after enough wear and tear, and Whites helps metal detector owners of all brands bring their devices back to life with proper repair and maintenance.
Experts carry out diagnostics and repairs of any models of metal detectors and search coils of both international and domestic manufacturers. Using an individualized service approach, Whites will provide you with the conditions, terms, and payment for your repairs based on the complexity of the work.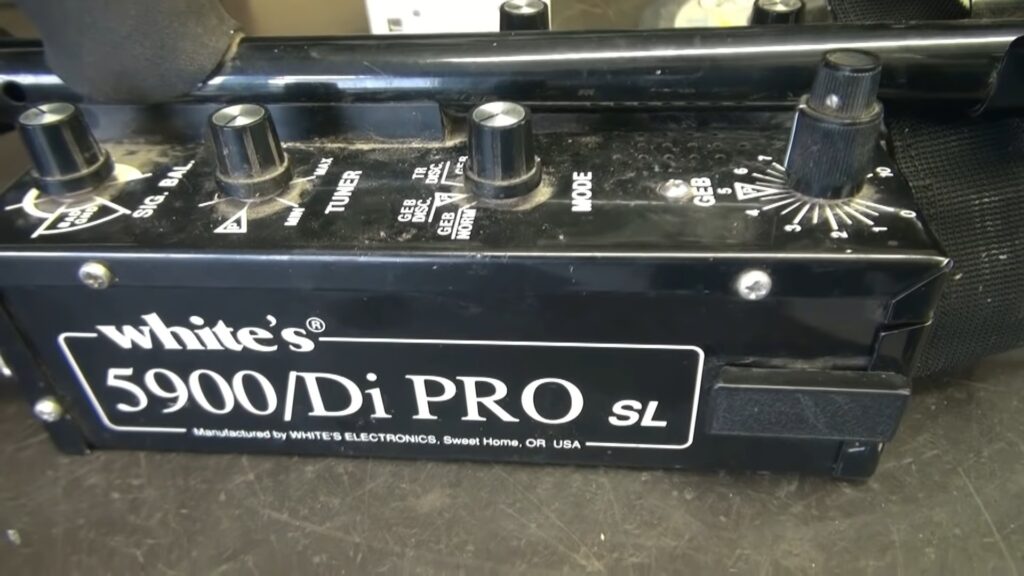 Remember to keep track of your warranty as defective and defunct devices under warranty will be fixed based on the terms of your provided warranty.
Before contacting Whites service center, check the condition of your device's batteries, and replace them if the serviceability and charge level dictates.
A common cause of unstable operation of the metal detector may be water entering the device, which can be corrected by simple drying. If the detector still does not work correctly, reset to factory parameters according to the instructions for the device.
If technical problems persist, then clean the device from contamination, pack it, prepare a warranty card, and contact Whites service center to find out the cause of the breakdown.
Where Can I Buy Parts for Whites Metal Detector?
Whites metal detector parts are available at online retailers as well as the official Whites website. You'll find:
Chargers (mains, car, backup) and charger adapters
Rechargeable batteries, battery boxes, cable for the battery, covers for the battery compartment
Wireless coil control unit and control unitholders.
Accessories and spare parts for metal detectors: keyboard, speakers, headphones, extension cable, search probe with cable, protective transport case for metal detectors, fastener sets, fasteners, armrests, armrest covers, armrest belts, armrest bars, armrest brackets, panels , board, supports, search loops, triggers, designators, gaskets (washers) for mounting coils, rods (upper, middle, lower)
LCD displays, characterized by the latest, highly customizable microprocessor technologies, providing comprehensive signal analysis, fast response, easy data perception
Covers on the control unit and for coils
Backpacks, bags, unloading vests
Whites vs Garrett
Comparing the Garret ACE 250, one of the most popular Garrett metal detectors for standard purposes, to the Whites Coinmaster is comparing apples to apples. They are equally lightweight metal detectors and have a standard design for ground metal detecting—three rods and the top location of the monoblock.
Monoblock in the metal detector (when the screen, control, power and headphone jack are placed in one block) makes it possible to conduct a search without using rods. While this is a rare type of search, the function is useful.
The Whites Coinmaster screen displays the same information as the ACE 250. The graphic scale of the metal discriminator in the ACE 250 is a 12-segment scale, and in the Whites Coinmaster is 8.
The sensitivity of the metal detector is set to 8 segments in the Whites Coinmaster and ACE 250. The depth indicator to the target is 5 segments in Whites Coinmaster with a gradation from 0 to 8+ inches. The ACE 250 has a 4-segment depth gauge and a range of 2 to 8+ inches.
In both the Whites Coinmaster and the ACE 250, the depth scale is graduated for purposes commensurate with the size of the coins. Both display the status of the discriminator of metals, batteries. The greatest disparity between the Whites Coinmaster and the ACE 250, is the battery usage.
The Whites Coinmaster is powered by 2 Kronas, and the ACE 250 has four AA batteries (fingers). Kronas batteries are less common and are more expensive.
Whites Pros and Cons
Pros
Comparable finding performance
Inexpensive and easy-to-find metal detector
Cons
Kronas batteries harder to buy and more expensive
Garrett Pros and Cons
Pros
Comparable power, discrimination, and sensitivity to competitor
Cons
Low charge produced phantoms despite indicator showing one more division
Whites vs Fisher
Comparing the Fisher Gemini-3 to the Whites TM 808 provides a good look at two popular machines that prove very different. Let's start with the design features.
The weight of both metal detectors is approximately the same. The TM 808 is 2.12 kg, while the Gemini III weighs 2.8 kg. The difference of 700g does not really affect the duration of the search, but the design of both metal detectors differs immensely.
The Fisher Gemini-3 leads in design with a receiver and transmitter which are connected to each other by a three-section boom. With the help of latches, the receiver and the transmitter are assembled in a suitcase convenient for transportation, which can be carried both with the help of an invoice handle on one of the blocks or in a special bag.
The disadvantages of the Whites TM 808 depth detector include a fixed handle and non-separable frames of the receiver and transmitter. They can only be disconnected from the unit.
In strength, the winner is once more the Fisher Gemini-3.
The rigid frame-transmitter connection and the massive body of the detector and transmitter of the metal detector make it more reliable in operation, especially in the forest, in tall grass, etc., compared to Whites TM 808, whose frames break in the rods over time. The slightest change in their relative position leads to a false response.
The declared depth for both metal detectors is 6m. This figure was obtained as a result of laboratory studies under ideal conditions. However, as practice shows, in real conditions, this figure drops to 4m. Metal detectors stably detect medium-sized objects, such as a metal helmet, to a depth of 1.5m.
The detectors' settings are described in sufficient detail in the instructions. However, there are some points worth noting.
If we compare the instruments for convenience and comfort in the search, then the TM 808 is the leader. It could even be claimed as the best metal detector in its class. It can be used to search quite confidently both on flat terrain (fields) and on terrain with differences in ground levels (arable land, trenches, dugouts, etc.) and in the forests.
True, over time, the TM 808 begins to please us with false positives. The reason, as described above, is the insufficiently reliable bar-frame joint.
Gemini-3 is suitable either for searching on plowed fields or in clear pine forests. The handle, in the form of a belt, is inconvenient for steady, prolonged searches. The device now and then will navigate to swing on a belt, and even professionals cannot keep the distance of search elements to the ground unchanged.
All this leads to a lot of false positives among novice searchers.
In general, both devices are quite simple in settings, and they work very stably, which is important for beginners. In general, they demonstrate comparable quality and performance.
If you want to achieve maximum detection depth, Fisher Gemini-3 is ideal and will be easier to configure. The TM 808 provides stability and stamina.
Whites Pros and Cons
Pros
Can be used to search confidently both on flat terrain (fields) and on terrain with differences in ground levels
Cons
Detector includes a fixed handle and non-separable frames of the receiver and transmitter
Fisher Pros and Cons
Pros
Receiver and transmitter connected to each other by a three-section boom
Massive body of detector and transmitter make it operationally reliable
Cons
Inconvenient handle in the form of a belt
Whites vs Bounty Hunter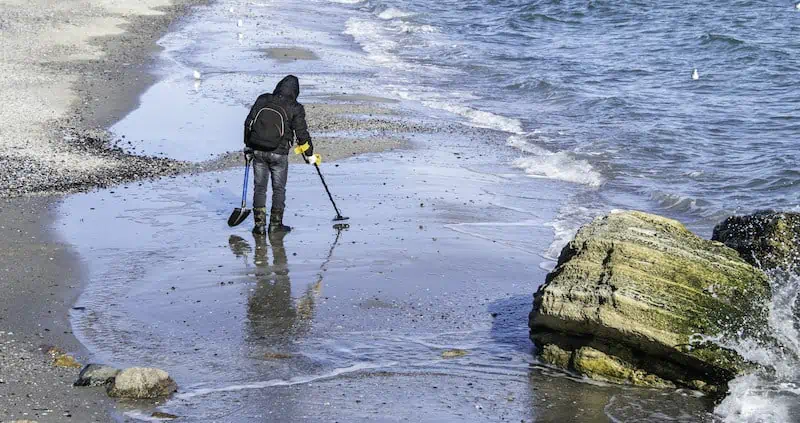 In the class of inexpensive ground-based metal detectors, Whites Treasure and the Quick Draw Pro are comparable. Both have a round 8-inch coil in the configuration (a large 11 DD coil is a separate 11 DD configuration).
Metal detectors have a digital output target identifier (VDI), multi-tone sound response, and new technology for the discrimination of metals in finds. VDI values ​​in discrimination have a classic correspondence, 1-39 ferrous iron, 40-99 finds containing non-ferrous metal.
The advantages of Treasure include reliability in search and a very simple menu. No practical experience is required for mastering this device. Both the Treasure and the Quick Draw work on the plug-and-go principle. They're simpler to start than the Bounty Hunter metal detector, but consider carefully what best suits your purposes.
Whites Pros and Cons
Pros
Simple operation
Solid design
Cons
The small coil in latest versions
Bounty Hunter Pros and Cons
Pros
Ergonomic casing
The clear sound of metal detecting
An affordable option for hobbyists is just what you'll get with Whites devices. With quality and simple, standard features, it's a great starting point for the beginner or casual searcher.
If you're interested in learning more about other brands you can check out our post on the best metal detectors on the market.